Posted on
Wed, Jan 25, 2012 : 5:59 a.m.
Saline agrees to wait for Michigan's decision on 'Pledge of Allegiance'
By Danielle Arndt
Members of Saline's Board of Education decided Tuesday they would wait for the State Legislature to act before mandating the "Pledge of Allegiance" district-wide.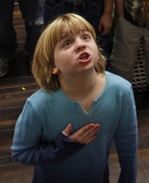 File photo
Saline Area Schools
board President
Lisa Slawson
said it appears the Michigan
House of Representatives
is very interested in this issue and has sufficient votes to pass the bill that is expected to come before them.
At the board's earlier January meeting, Rep. Mark Ouimet, R-Scio Township, said a bill (SB 0637) that would require students across the state to recite the Pledge of Allegiance daily passed in the Senate in November. The House is now waiting for it to come out of committee for a vote.
"I have the confidence level it will be approved," said newly elected board secretary David Holden, who brought the mandated pledge proposal before the board to make good on a campaign promise.
He said he doesn't want Saline to "chase the train down the track" and develop a district policy on the pledge to only later find the state has implemented a drastically different policy.
Slawson said it is time consuming to draft a policy and then amend it, so she, too, was in favor of a "wait and see" approach.
Several board members have started speaking with local organizations, Veterans of Foreign Wars posts and American Legions to explore the possibility of having flags donated to each SAS classroom.
The goal is to equip each classroom with a flag now, so the district is prepared when the law is enacted, said Trustee Todd Carter.
Holden said if the bill dies, he anticipates bringing the proposal back to the board at that time to hammer out a district-wide policy.
Saline High School's student representative, Aaron Mukerjee, said he opposed mandating the pledge at the last board meeting but would like to know more about what is behind the proposal.
"I would like to see more discussion about our civic curriculum and to look at how we teach civic responsibility," he said. "I don't know where (the pledge proposal) is stemming from but if we do have a failed sense of patriotism and civic duty (within our schools), then I think we need to look at it from a broader sense … and see what we can do to fix that issue."
Trustee David Zimmer recommended "trying to make (the pledge) more relevant to young people" by having former Saline High School graduates who have served in the military come for flag raising ceremonies and to speak to current students about their experiences and sacrifice.
Although SHS junior Paul Popa is a strong advocate for mandating the pledge, at Tuesday's board meeting he said he understood the board's decision to wait.
"I know they have the best interests of the students and the community at heart," he said, following the meeting. "I had hoped to see them enact (the pledge) soon, but I think they understand many people feel passionately about the topic and were trying not to upset people."
Staff reporter Danielle Arndt covers K-12 education for AnnArbor.com. Follow her on Twitter @DanielleArndt or email her at daniellearndt@annarbor.com.