Posted on
Wed, Jan 11, 2012 : 5:58 a.m.
Saline Area Schools to weigh benefits of district-wide branding campaign
By Danielle Arndt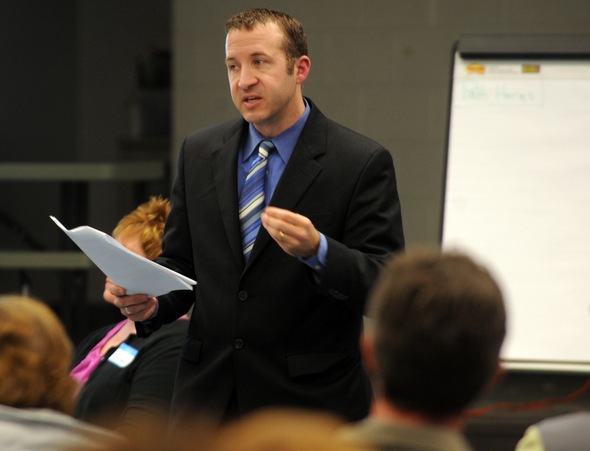 File photo
This story has been updated to include Saline's head count numbers to show loss of enrollment.
Saline Area Schools' Board of Education will consider spending general fund dollars on a marketing/branding campaign in the coming months.
Discussion about what the district should do to target new students was triggered by a proposal Tuesday night from Assistant Superintendent of Instructional Services Steve Laatsch.
Saline has experienced about a four-percent decrease in student enrollment in the past five years, said Superintendent Scot Graden. In 2006, SAS had a fall head count of 5,536 and in the fall of 2011, it had 5,370 students.
Laatsch presented a concept for a series of advertisements through Cumulus Radio that would cost Saline a little more than $400 per week for a multi-week campaign.
Cumulus Radio has four stations in the Ann Arbor area — 107one, W4 Country 102.9 FM, Sports Talk 1050 WTKA and 1290 AM WLBY — which the company says have a combined base of 270,000 loyal listeners.
Laatsch said the marketing set Cumulus proposed would include 21 30-second commercials to be played per day on Cumulus Ann Arbor's second most-listened-to station, 107one. 107one has approximately 40,000 adult listeners, according to its website.
Of the 21 commercials, 10 would be played between 7 p.m. and midnight, while the remaining would be on from 6 a.m. to noon, the proposal said.
"(Cumulus) is ready to go with the initial campaign if we decide this is something we want to do now or in a couple of months or down the road," Laatsch said, adding the concept for the radio advertisements was modeled after the success of the state's Pure Michigan campaign.
He said the recently approved district-wide all-day kindergarten and increased school of choice options make it an optimal time for SAS to attract new students.
"In case anyone is not aware, we receive funding from the state per pupil," Laatsch said, adding the district needs to be wanted before it is needed. "We want to get the word out to the family with the 2-year-old. Or when someone starts thinking about having kids."
Trustee Amy Cattell said she would like to see some additional pricing first, prior to discussing the Cumulus proposal further. Her biggest concern was not advertising during the evening rush hour. She also asked what it would cost to advertise on W4 Country, which has 83,000-plus listeners.
Board Secretary David Holden said he is "a little more than uncomfortable with the approach."
"(I'm against) turning kids into little ATM machines and chasing them around," he said. "I think a better approach would be to market to corporations and businesses."
He said under this type of "multiplier approach," the businesses would promote Saline Area Schools to attract high quality employees. Holden added this is less exploitative than trying to steal kids from other districts.
Trustee David Zimmer suggested reaching out to the city of Saline to see if a joint marketing effort might be of interest to officials. He said it may be a great opportunity to strengthen the relationship between the schools and the city and to dual promote to bring families to Saline.
Zimmer added he would like to see administrators do some research on the success of other districts' marketing campaigns before the board decides whether such branding efforts are worth the expense.
Instead of focusing solely on all-day kindergarten and Saline Area Schools being a school of choice, Board President Lisa Slawson proposed emphasizing Saline's graduate success stories and some of the innovative programs the district offers.
"I think the best word of mouth is truly a parent or a teacher or student who is really happy with their experiences," Slawson said.
Graden said previous boards have not been interested in the possibility of marketing or branding for various reasons. He was pleased the current board was interested in contemplating it further, he said.
Staff reporter Danielle Arndt covers K-12 education for AnnArbor.com. Follow her on Twitter @DanielleArndt or email her at daniellearndt@annarbor.com.