Posted on
Thu, Feb 2, 2012 : 5:57 a.m.
Video shows Saline police struggling to subdue driver during Christmas Day arrest
By Kyle Feldscher
Saline police have released the video from two patrol cars showing a 24-year-old resident's attempt to break away from police after being pulled over on suspicion of drunken driving.
John Craigmile has been charged with assault with a dangerous weapon and assaulting, resisting or obstructing a police officer for the incident in the early hours of Dec. 25 in front of his home in the 200 block of McKay Street. Saline police Officer Ashley Kofahl pulled Craigmile over for suspicion of drunken driving and called for backup from Officer Dennis Gruschow.
Craigmile exited the vehicle when he stopped, in opposition to Kofahl's orders, according to the police report. Craigmile began to struggle with Kofahl as Gruschow arrived on the scene, the report said.
Gruschow came to her aid, but both officers could not subdue Craigmile.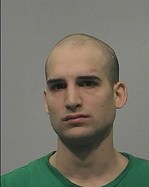 Courtesy of the Saline Police Department
According to the police report, Craigmile threw punches at Kofahl and Gruschow and used Gruschow's flashlight as a weapon. Gruschow was bleeding from the mouth following the incident and Kofahl went to the emergency room later in the day, according to the police report.
The video shown is from Kofahl's police cruiser. The struggle continued off screen until Craigmile's father came out of the home and calmed down his son, allowing the officers to place him under arrest, according to the police report.
Craigmile's case has been sent to the Washtenaw County Trial Court and will proceed toward trial. His next court date is March 13.
Kyle Feldscher covers cops and courts for AnnArbor.com. He can be reached at kylefeldscher@annarbor.com or you can follow him on Twitter.