Posted on
Wed, Oct 13, 2010 : 6:03 a.m.
Saline school board votes to leave non-discrimination policy unchanged
By Tara Cavanaugh
In a split vote that came after nearly two hours of public comment Tuesday night, the Saline school board decided not to change its non-discrimination policy to add the words "sexual orientation, gender identity and gender expression."
For weeks, community members and school board members have been debating the controversial change, with one side arguing it's needed to create an inclusive climate in the district and the other side saying the district's anti-bullying policy already does that.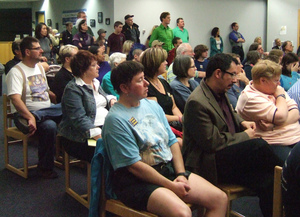 Weeks of meetings culminated in Tuesday's 4-3 vote, with trustees Lisa Slawson, David Medly, and President David Friese voting in favor of the change. Board members who voted against it were Amy Cattell, Chuck Lesch, Paul Hynek and Craig Hoeft.
The non-discrimination policy currently says height, weight, religion, sex, color, race, national origin, and marital status can't be used to deny students the benefits of educational activities. At issue was adding "sexual orientation, gender identity and gender expression" to that list.
Board members who voted against the change said the real issue is bullying, not discrimination, and the district already has a policy to address that.
"I value your group and all students at the high school," Cattell told students seeking the policy change. "You have brought awareness to us, and it is our job to put the action in place to make students feel safe.
"It's obvious that our anti-bullying policy needs to be stepped up,and we need to come together as a community and a school system to ... have zero tolerance of bullying of any students."
Hynek agreed. "It's an issue of education, and we don't live in a tolerant society," he said. "We already have a policy in place."
Before the vote, Medly proposed an amendment that would have changed the policy to only include the words "sexual orientation." Cattell seconded that motion, but only Medly and Friese voted in support of it.
For two hours before the vote and another 45 minutes toward the end of the meeting, members of the community weighed in on the proposed policy change. The board heard from current and former teachers, current and former students, parents, concerned citizens, and others outside the district.
More than 150 people attended the meeting. Some had to stand on the side of the room and sit on the floor. The crowd reacted to many speakers, ignoring requests from Friese not to clap.
Don DiPaolo, who taught in Saline for 19 years, told the board he was too afraid to come out in Saline because the climate wasn't safe for a gay teacher.
"The truth is there are a lot of painful, painful memories here, which is why I haven't been back since '97," he said.
DiPaolo said he tried to keep his sexual orientation a secret, but still people in the community suspected and wrote anti-gay slurs on his car in spray paint and in his classroom and damaged his car.
The board also heard from community members who didn't support changing the policy.
Tom Frederick, a science teacher at the high school, told the school board it needed to realize student complaints should be dealt with through the bullying policy, not the non-discrimination policy. He questioned whether the school board should take an advocacy role on lesbian, gay, bisexual and transgender issues, and worried "the change will lead to future cases of discrimination."
Jim Toy, a civil rights activist, addressed the board before the vote. As he left the meeting, he said he was disappointed.
"I came here because I support the right for everybody to be free from discrimination and harassment," he said. "And for that freedom to be visible, it must then include the classes that were up for the vote: gender identity, gender expression, sexual orientation."
"I hope that it will be brought before the board again. It's a matter of justice," Toy said.
Colin Roberts, a graduate of Saline and a student at the University of Michigan, said, "Tonight as a board you've shown the students, teachers, and staff of this district that you don't care."
Emma Upham, president of Saline High School's gay-straight alliance called Spectrum, vowed the issue isn't over.
"This is not the end of this. We are disappointed but not disheartened," she said. "We will continue until the climate is better at our school."
Tara Cavanaugh is a freelance writer for AnnArbor.com. Reach the news desk at news@annarbor.com or 734-623-2530.