Posted on
Thu, Feb 23, 2012 : 9:30 a.m.
Saline selected for Michigan Main Street Program to help preserve, revitalize downtown
By Danny Shaw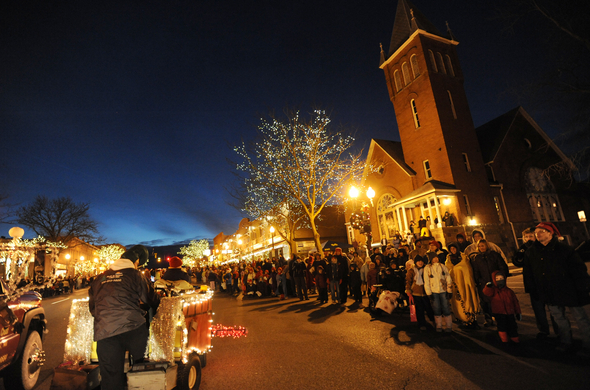 Melanie Maxwell | AnnArbor.com
After
two years
of planning and preparation, the
City of Saline
has been accepted to the
Michigan Main Street Program
, Gov.
Rick Snyder
announced Wednesday.
The Michigan State Housing Development Authority selected Saline for the program, which will provide five years of technical assistance focusing on ways to attract businesses and residents to the downtown area, the state said in news release.
"The Michigan Main Street program will help Saline create opportunities for redevelopment, placemaking and economic growth, just as it has in downtowns throughout Michigan," Snyder said in the release.
Saline Mayor Gretchen Driskell said the program is a great tool that will help, not only the downtown area, but the city as a whole.
"The concept is that it's not a city program, it's a community program," Driskell said. "It will help make us that much stronger and dynamic. I'm really excited to see this happen."
Driskell said the program is an incentive to potential business owners looking to open shop knowing the city is a Michigan Main Street program.
Courtesy photo, Saline Area Chamber of Commerce
There are 38 participating communities in Michigan, according to the news release.
"Programs like Michigan Main Street provide downtown communities with the tools needed to develop thriving downtowns," said MSHDA's Executive Director Gary Heidel in the release. "In turn, these tools can be used to create jobs, provide desirable places to live and build a sense of place for Michigan residents."
The Michigan Main Street Program focuses on four points of enhancement: organization, promotion, design and economic restructuring, the release states.
Cindy Czubko, Saline Historic Downtown Alliance board president, said the program will help Saline build a volunteer-driven organization aimed at the revitalization of downtown Saline. She thinks one of the indicators of a healthy community is the health of its downtown.
"Success of the program will be based on the volunteer involvement and the partnership relationships we build along the way," Czubko wrote in an email. "So far, the community support has been amazing!" Czubko said the two-year process involved more than 100 community members, and a new non-profit called Saline Main Street will house the new program. The city will have representation on both the board and committees of Saline Main Street, wrote Czubko.
Art Trapp, Saline's downtown development director, said the program helps to provide training and guidance on not only how to attract more businesses, but how to maintain a larger, more economically viable downtown area.
"Saline is in pretty good shape and this will help keep it that way," Trapp said. "It gives direction and helps us in going forward with the community."
Trapp said the program also provides opportunities for state grants the city wasn't eligible for in the past. It will also provide ways to promote volunteerism for downtown activities and events.
"After two years of work, it's neat to see it come to a conclusion," he said. "And it's a good conclusion."
Read the full release here.
Contact reporter Danny Shaw at 734-623-2544 or dannyshaw@annarbor.com.