Posted on
Sun, Jun 20, 2010 : 1:06 p.m.
Saline's St. Andrew the Apostle Catholic Church building 31,160-square-foot expansion
By Brian Vernellis
Faced with a growing congregation, St. Andrew the Apostle Catholic Church in Saline is responding with a massive construction effort.
In mid-March, the parish began a $7 million project that will add a 31,160-square-foot addition onto the church, parish hall and offices.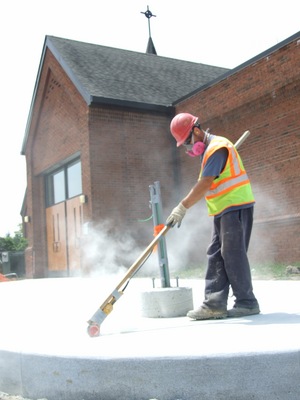 Brian Vernellis | AnnArbor.com
"We're basically doubling in size," said parish project manager Tom Arehart of the effort.
As dioceses across the nation consolidate parishes to deal with congregations that are declining in numbers, St. Andrew's expansion is an indication that membership thrives in some areas.
"It's an excellent sign that the church is growing and flourishing," Diocese of Lansing spokesman Michael Diebold said. "It's a testament to the community of Saline."
In September 2008, the Diocese of Lansing announced parish closures due to dwindling membership. The diocese closed four parishes in Genesee County due to declining membership and finances.
"We're seeing that demographic shift like a lot of organizations," Diebold said. "People are moving out of urban areas or flat out leaving the state.
"I think if you look at county growth, you'll see it's trending out to bedroom communities - communities where people live in one area and work in another."
Saline's expansion will cost about $5.5 million, and other expenditures such as engineering and management fees will add another $1.5 million to the project.
The additional space will be used for offices, classrooms, multifunctional usage, continuing education and social outreach programs.
Arehart estimated the construction's three phases will be finished by late fall/early winter of 2011.
"We've enjoyed consistent growth through the 1990s and the first part of 2000s," Arehart said. "We've been growing at 10-15 families a month through the last several years."
The 2010 Diocese of Lansing directory lists St. Andrew with 1,891 registered families.
St. Andrew began as a mission parish in Saline in 1953, purchasing five acres off Monroe Street.
In 1968, St. Andrew gained full parish status and moved to its present location on Austin Drive.
The project is in the early stages of phase one, which is centered on site work and improving utilities. The second phase focuses on the foundation and is targeted to begin before the end of June.
"We hope to have the primary building up and enclosed before winter," Arehart said.