Posted on
Tue, Oct 26, 2010 : 1:24 p.m.
Sarah Palin endorses Rob Steele in Michigan's 15th Congressional District race
By Ryan J. Stanton
Sarah Palin announced today her endorsement of Republican Rob Steele in his quest to unseat U.S. Rep. John Dingell, D-Dearborn, in Michigan's 15th Congressional District race.
Mike Marzano, Steele's campaign manager, said the former Alaska governor's support comes as an unexpected surprise. In fact, the campaign found out today via Facebook.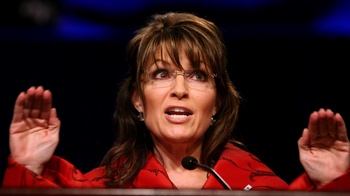 AP Photo
In a Facebook post titled "Sprint to the Finish with More Good Candidates," Palin offered her support for four "commonsense conservative candidates who are determined to get our country back on track." In addition to Steele, she endorsed Dick Muri for Washington's 9th Congressional District, Ilario Pantano for North Carolina's 7th Congressional District, and Chuck Wilkerson for California's 30th Congressional District.
"Dr. Rob Steele is challenging the longest-serving member of the House, and he needs your help," Palin's post reads. "Dr. Steele is right on the issues — he's committed to reduced spending, lower taxes, and commonsense Constitutional principles; and he's right for Michigan — an NRA-member and avid sportsman, father, and community leader. After 55 years, it's time for new leadership for Michigan."
Palin linked to Steele's campaign website, Facebook page and Twitter account.
"It's an endorsement and we're moving forward to Nov. 2," Marzano said of picking up Palin's support. "We're working hard and every little bit of help counts."
Marzano said Steele and Palin see eye-to-eye on holding government accountable and cutting "insane spending" in Washington. Steele also has endorsements from prominent Republicans like Minnesota Governor Tim Pawlenty and former Massachusetts Governor Mitt Romney.
The Tea Party Express is expected to swing through Monroe on Friday to hold a rally for Steele. Rumors have circulated that Palin might make an appearance.
Dingell's campaign put out a statement in response to news of Palin's endorsement of Steele, calling her "the darling of the right-wing."
"Palin, the notorious running-mate of Republican Presidential candidate John McCain, opposes the successful investment by the federal government into the auto industry, which saved millions of American jobs and hundreds of thousands in Michigan alone," Dingell's campaign said. "Palin opposes the investments the government is making in American workers and the jobs that these investments are saving and creating. We already know Rob Steele supports tax cuts for companies that send jobs to China and India, so this latest endorsement from Sarah Palin comes as no surprise — both Steele and Palin are foes of Michigan's working families."
Steele's campaign is holding a "Take Back Congress" rally Wednesday night on the University of Michigan Diag, the historic center of campus. The University of Michigan College Republicans is sponsoring the event from 6:30 to 8 p.m.
The tentative lineup includes an invocation by Dr. Dawn Lancaster, music by Christian recording artist Kimbirly Vasi and a speech by tea party activist Wendy Lynn Day. The master of ceremonies is radio host Thayrone X of WAAM Talk 1600.
Steele's campaign said today other speakers at the event include: Robert Schostak, finance chairman of the Michigan Republican Party; Oakland County Sheriff Mike Bouchard, who ran for governor in the Republican primary; and Andrew Richner, a Republican U-M regent.
Ryan J. Stanton covers government and politics for AnnArbor.com. Reach him at ryanstanton@annarbor.com or 734-623-2529.