Posted on
Tue, Nov 6, 2012 : 7:45 a.m.
Lines reported in Ann Arbor area as voters cast ballots
By Ben Freed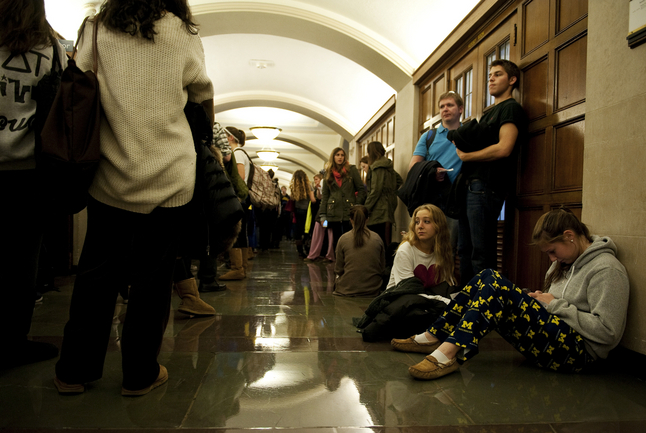 Daniel Brenner I AnnArbor.com
Editor's note: AnnArbor.com reporter Ben Freed is visiting polling places in Washtenaw County Tuesday morning to document voters' experiences and capture the scene at the polls. Check this post throughout the morning for updates. The photo caption above has been changed to correct the name of the school.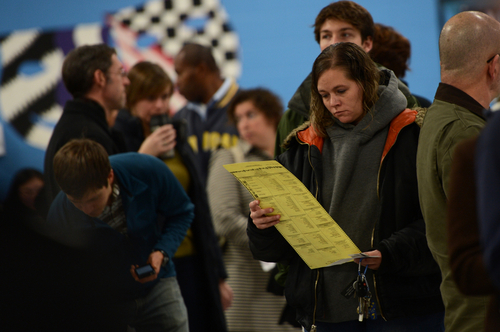 Melanie Maxwell | AnnArbor.com
Lines were down Tuesday afternoon from earlier in the day when some voters in the Ann Arbor area reported waits of more than an hour to cast their ballots in an election that will decide everything from president to township board member and plenty of issues in-between.
Ed Golembiewski, director of elections for Washtenaw County, said Tuesday afternoon that turnout was predictably heavy, and lines had been reported at many polling locations. He said voting appeared on pace to meet pre-election expectations of 65 to 70 percent turnout. That is similar to the turnout that was reported for the 2008 presidential election, he said.
Lines Tuesday afternoon will likely be down from morning levels he said, but could pick up again after 5 p.m. Anyone who is in line by 8 p.m., the poll closing time, will get to vote no matter how long it takes he said.
Statewide, there are six proposals on the ballot, many of which have had multimillion-dollar campaigns run both for and against them.
In Washtenaw County, a bond proposal for a new downtown Ann Arbor library is one of many local issues that will be decided Tuesday. Of particular importance to voters in eastern Washtenaw County is the proposed consolidation of Ypsilanti and Willow Run schools.
The only way to have a say in any of these issues is to head to one of 143 polling locations in Washtenaw County and make your voice heard.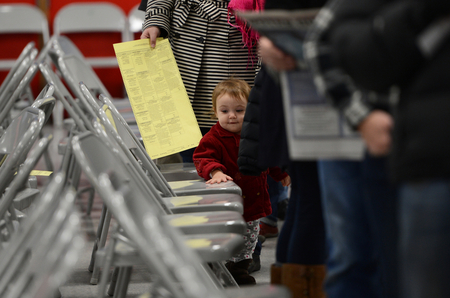 Melanie Maxwell | AnnArbor.com
As of Monday, 16.5 percent of Washtenaw County's 280,548 registered voters had already voted by absentee ballot. Between the interest in the election and the length of the ballot, Golembiewski said voters should expect a wait today.
Early voting saw few problems, he said. A couple of tabulators broke down and had to be replaced or repaired. Some ballots in Scio Township's Precinct 8 were defective with stray marks on them, but he said they have enough to keep going until they can get new ones delivered.
This post is being updated throughout the morning as we talk to people in Washtenaw County about why they are voting, who they are voting for, and what makes a difference to them in this election.
6:50 a.m. - Ann Arbor Downtown Library
A small crowd waited outside at the polling place at the downtown Ann Arbor public library on South Fifth Avenue before the polls opened at 7 a.m. Tuesday.
First in line was Dale Harris, a retired US Army veteran. He said he arrived at the polling place at 5:45 a.m.
While ballot proposals and local candidates have been getting a lot of attention in Michigan, it was the top of the ticket that was important for Harris.
"I'm here this early for the presidential election, the rest of it I don't get into so much," he said. "I'm here to vote for Romney."
Carolyn Miller also arrived before the polls opened, but she was there to cast her ballot for Romney's opponent.
"I'm voting for Obama today, because he wants to help the middle class," she said.
Despite the fact that they were voting at the library, none of the early arrivers seemed particularly interested in the proposed bond issue to fund a new downtown library.
"A bigger one would be nice, I guess," Miller said. "I see kids come by here a lot, so it'd be nice to get a bigger one for them."
7:50 a.m. - Ann Arbor Assembly of God
Voters at this church in the Ann Arbor Hills neighborhood east of downtown Ann Arbor were greeted as they drove in by three volunteers holding signs urging "Yes" votes on various ballot proposals.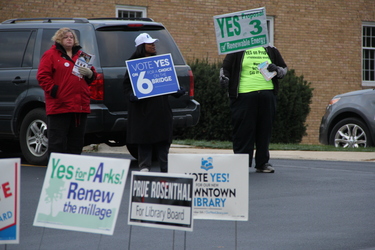 Ben Freed | AnnArbor.com
"I think people pretty much have their mind made up on most things," one of the sign holders,
Bernedia Word
, said.
"But this helps people who might have not decided yet."
Word said there had been a pretty constant stream of traffic into the polling station since she got there at about the time the polls opened. Polling place chairperson Christine Ruwe said she expected to be busy throughout the day, but especially in the early morning and after 5 p.m.
"Realistically, that's when most people try to come to vote," she said. "When they're going to or coming from work."
Ruwe said that the number of people in line to vote this year as the polling station was higher than four years ago, and that the line had wrapped all the way around the front of the building.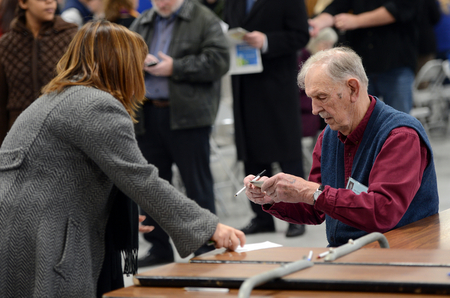 Melanie Maxwell | AnnArbor.com
"We have 13 polling stations, but it's still taking people a good amount of time to vote," she said.
"The last person who voted said he waited for 45 minutes to cast his ballot."
Elsewhere in Ann Arbor, some people were reporting they had to stand in line for about an hour to vote.
The Assembly of God polling station was given 1,800 ballots, and Ruwe said 77 had been tabulated so far, with another 40-or-so people in a line that did not seem to growing any shorter as the minutes wore on around 8 a.m.
11:20 a.m. - Adams Elementary School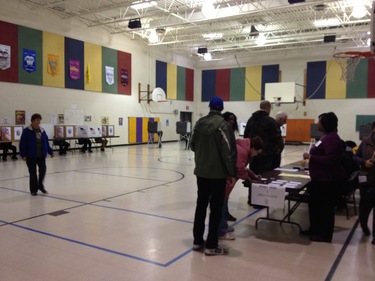 Ben Freed | Ann Arbor.com
Sorry for the long break here; had to go
chat with Governor Snyder
at his polling place.
There was no line at the Ward 3 Precinct 2 voting location in Ypsilanti. However, co-chairperson Charlay Bibins said that of the approximately 1,500 voters who were registered to vote at the location, approximately 320 had already cast their ballots.
Elizabeth Scriven said that she came in the late morning on purpose because she knew there would probably be a lull in the long voter lines. The most important issues for her on the ballot were Proposal 2 and the Ypsilanti-Willow Run school consolidation.
"All of the folks who I know who are involved with the school system have been very positive about the consolidation," she said.
"Anything we can do to keep control with the schools and the people who work in them and away from the state government is a good thing in my opinion."
Student Bekah Whitehead also benefited from the lack of a line, but said she was ready to vote now simply because it fit into her class schedule. As a Republican, Whitehead said she mostly toes the party line, but there are some exceptions.
"I don't vote the straight ticket; I pick and choose some," she said. "There were some Democratic candidates I wanted to vote for, and I think that while Proposal 5 is a good idea, it goes a bit to far for me."
12:15 - Perry Child Development Center
Twitter reports of computer issues at Ypsilanti Ward 1 Precinct 1 surfaced around noon, but turned out to be unfounded said chairwoman La'Cora Jones.
"We had a jam for maybe two minutes, and then it was all fixed," she said.
"No one has been turned away except for some people who were in the wrong precinct or not registered."
Ben Freed | AnnArbor.com
Even without a computer jam, the line was still impressive, and people at the front said they had waited upwards of an hour to vote at the location. Jones said that she was given 1,650 ballots at the beginning of the day and about 250 had been cast a little before noon.
"We're getting a little break now with the line," she said.
"Before it was twisted all the way around a few times down the hall. This is a huge turnout for our precinct."
Out in front of the polling location, local landscaper Bill Riney (also calling himself The Obama Hot Dog Man) was handing out free hot dogs and pop to passers-by.
"I've been out for five years giving out hot dogs in support of Obama. I pay for it all out of my own pocket," he said.
Riney, who was accompanied by his golden Labrador retriever, may support the president for re-election, but he doesn't discriminate when it comes to hot dogs.
"I'll feed anyone who's hungry," he said. "Nothing beats being out here on election day."
1:20 p.m. - Liberty School
Not only was there not a line at the Liberty School on Ann Arbor Street in Saline just after the "lunch hour rush," there were nearly 20 open polling stations at each of the two precincts housed here.
"Our city clerk is Dianne Hill, and she is very, very organized," Precinct 1 chairperson Pat Jensen said.
"They have their research done and make sure we have everything we need ahead of time. Even all of our absentee ballots are counted in a different precinct so we don't have to worry about that."
There were 24 polling booths in each of the two precincts housed in the school, a higher number than the two locations I visited in Ypslianti, and both reported that they had been able to get people into and out of their polling stations with very little hassle.
"The challengers have been watching us, and they say that the longest anyone has waited today was 23 minutes," Jensen said.
Precinct 1 had already tabulated about 650 ballots out of their allotted 1,300. Precinct 2 had counted 518 votes out o 1,475.
The lawns outside the school were awash with yard signs at a level that eclipsed many other polling locations. Republican signs overwhelmingly outnumbered Democratic ones, with plenty of signs up in the mayoral race between Glenn Law and Brian Marl.
2:30 - Pioneer High School
There were reports earlier today about long lines at Pioneer High School in Ann Arbor, but by 2:30 p.m. those lines had dissipated as a slow but steady stream came in to cast their votes.
Ward 4 Precincts 4 and 8 both vote at Pioneer, and the chairpersons both said that the lines earlier in the day had been impressive.
"We had one person here when we came to open the doors at 6 a.m." Precinct 4 chairperson Linda Soper said.
"I don't know why more people don't camp out to make sure they can vote quickly. People camp out for concert tickets, or for Black Friday shopping, why not to exercise their democratic rights."
Precinct 8 chairman Albert Fillion said the longest he was aware of that anyone had waited in line to receive a ballot in his precinct was just under one hour. However, one of his major concerns all day has been how long people it has taken people to run their ballots in after receiving them.
"A lot of people did not take the time to read the proposals on the ballot and learn about them ahead of time," he said.
"There were people taking 30 or 40 minutes in the booth to read everything, decide, and vote on it."
Fillion said that backup in the booths caused most of the delays that people experienced while voting this morning. There was also a booth shortage, but that was quickly remedied with a call to the clerk's office, Soper said.
As of 2:30, there had been 754 ballots cast in Precinct 4 and 586 in Precinct 8. Precinct 4 had been allotted 1,800 ballots, while Precinct 8 got 2,300, election workers said.
Soper said that four years ago, after the morning rush there was not a second big turnout of "after dinner" voters. She said she's seen a similar pattern this year, with voters coming out in smaller and smaller numbers throughout the day.
Ben Freed covers business for AnnArbor.com. You can sign up here to receive Business Review updates every week. Reach out to Ben at 734-623-2528 or email him at benfreed@annarbor.com. Follow him on twitter @BFreedinA2