Posted on
Wed, Feb 15, 2012 : 2:59 p.m.
School official: We're committed to raising MEAP scores
By Cindy Heflin
When you're used to looking at passing rates of 90 or even 97 percent, 37 percent doesn't look so hot.
But that's the reality Ann Arbor Public School officials confronted Wednesday when the state released MEAP results.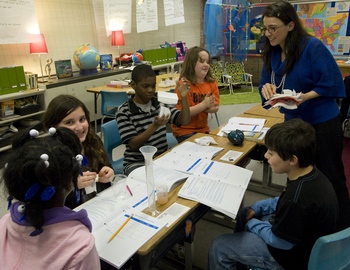 The 37 percent figure, in fifth-grade science, was nothing to crow about, but it's not that Ann Arbor students have suddenly gotten a lot worse at science. It's that the state changed the way the test is scored: It now takes more correct answers than in prior years for a student to rank as "proficient."
The Ann Arbor results on the Michigan Educational Assessment Program test were a lot better in reading and math, with passing rates in the 60 to 80 percent range, but the district says it's committed to improving scores under the new system.
"We know the level of expectation," said Alesia Flye, deputy superintendent for instruction. "Our scores are usually higher. We feel optimistic that … we can get our scores back to the level that the community accustomed to seeing."
The state released scores today in reading and math for grades three through eight for all public schools, including charter schools. Scores were also released in writing for grades four and seven, science for grades five and eight and social studies for grades six and nine.
The State Board of Education approved raising the passing rates or cut scores last year. Districts have been warning parents for months to expect a dramatic change in passing rates.
The higher cut scores bring Michigan into a more comparable standing with states across the country and will improve upon college readiness, the state said. The old scores painted an inaccurate picture of students' proficiency, the state said.
Despite the higher cut scores, Ann Arbor students still scored above the statewide average in every category, as they usually do.
Flye said the district has aligned its curriculum with Common Core State Standards, which should help to bring the scores back up. She also said an interdisciplinary approach to curriculum should especially help boost scores in science and social studies, which were much lower than reading and math scores.
In Ypsilanti, proficiency rates were much lower, with math proficiency rates dipping as low as 9.6 percent for third-graders. Fourth-graders did the best, with 23.7 percent scoring proficient.
In Saline, Steve Laatsch, assistant superintendent of instructional services, said the district was pleased overall with students' performance on the test. When compared to the recalculated scores from last year, students' scores went up a bit in about half the categories and down a bit in about half the categories.
"What it's showing me is that we're relatively consistent," he said.
Laatsch noted science scores are low across the state. Saline's scores reflected that trend, with a passing rate of 26.7 percent in eighth-grade science. Laatsch said the district will definitely take a look at whether there are weak spots in the science curriculum, but he said Saline students are performing well in upper-level science classes and on the ACT, which would seem to indicate no serious weaknesses.
Sixth-graders in Ypsilanti had the highest proficiency rate for the district in reading at 52 percent, and seventh-graders the lowest, 39.6 percent.
Ypsilanti school district spokeswoman Emma Jackson said district administrators were at a conference Wednesday afternoon and not available for comment.
County charter schools also had varied proficiency scores. Eastern Washtenaw Multicultural Academy averaged the lowest among the charter schools, at 34.8 percent in reading and 12.3 percent in math.
South Arbor Charter Academy averaged the highest of the charter schools in reading, 86.7 percent, and math, 69 percent.
The state average proficiency in math is 36.6 percent and reading is 64.2 percent.
Jan Ellis, spokesperson for the Michigan Department of Education, said lower percentages were expected with the change to a tougher MEAP scoring scale.
"We increased the passing score because it was set at a basic skill level," Ellis said. "We found that the cut score needed to substantially increased to ensure students are career and college ready."
Ellis said districts with substantially low scores should be establishing a plan to help raise test scores, which should involve teachers and students alike.
"It's likely to be a large concern of a district," she said. "They would need to look at the entire school and how they can support their students, teachers and staff and have better scores."
To view your school's results, visit the state's website.
AnnArbor.com reporter Danny Shaw contributed to this story.