Posted on
Sun, Jul 10, 2011 : 5:59 a.m.
Homeless camp near I-94 settles into neighborhood west of Ann Arbor
By Heidi Fenton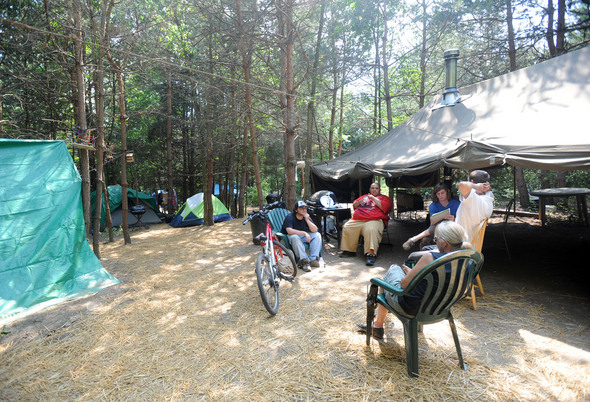 Angela Cesere | AnnArbor.com
Tucked away down a trail leading from a highway overpass at Wagner Road and I-94 just west of Ann Arbor lies an entire community many people drive by each day without a passing thought.
There, hidden among clusters of trees, is the home of Camp Take Notice, a grassroots tent community serving dozens of Washtenaw County's homeless.
It may not be visible from the road, but the camp's existence has long been a source of worry for neighbors since it relocated to Wagner Road from a location off Ann-Arbor Saline Road two years ago.
Nearby residents say they've worried about incidents of vandalism and unfamiliar people trespassing on their property.
But police find themselves caught in the middle: many of those incidents go unreported. And without documented reports from neighbors to back up their worries, authorities are left with the simple recognition that the homeless need a place to go—even beyond the shelters that serve many downtown.
"I'm sure the perception of some neighbors is it brings some sort of elevated danger, said Washtenaw County Sheriff's Lt. Brian Filipiak, who regularly patrols the area and meets with camp leaders to work out problems.
Yet those problems so far haven't touched the neighbors.
"We've had no reports of people being followed or children being harassed or anything like that."
Police response
Filipiak said police responded to a total of 17 calls from January through June known to be directly related to the camp. The largest number of calls in one month—7—came in May. Most of those calls come from concerned citizens driving by that report loads of firewood or water being handed over the overpass guardrail and taken into the woods.
In May, police responded to a single report of five disorderly men fighting inside the camp. Some were in need of hospital treatment. But beyond that day, Filipiak said, the problems have not escalated.
"Most of our incidents are directly related to the camp. It would be crimes committed to each other versus anyone on the outside," Filipiak said, noting deputies regularly patrol the area on foot to make sure order is maintained.
"They're a fairly well-managed group down there. They have checks and balances in place to deal with people that are causing problems or doing illegal things."
Neighbors acknowledge there often is no proof that wandering people and vandalism is directly tied to the camp. Still, they can't ignore the fact that these situations have grown over the past two years, said Mercedes Miller, who lives on Elizabeth Road, just around the corner from the overpass.
Miller recalled a March day this spring when her 7-month-old daughter awoke just before 3 a.m. and she walked into the kitchen, turned on a light and began to warm up a bottle. A quick glance out a window facing her garage made her stop in place.
"I looked out and saw the door open and a male walking out. He looked like he didn't have anywhere to go," Miller, 27, said. "I freaked out. I totally freaked out."
Miller said she has lived on and off with her parents for 13 years in the Elizabeth Road home and her worries in the last two years have grown. In summer 2010, Miller opened her mailbox and found a pile of what appeared to be animal feces inside, surrounded by cigarette butts. Though she called the police, there was not much that could be done without proof of who may have left the mess behind.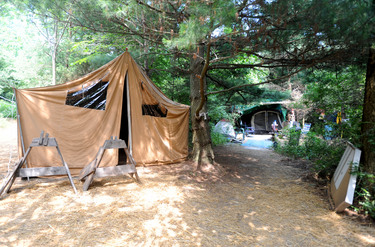 Angela Cesere | AnnArbor.com
In December, Miller's sister walked outside to find a strange man wandering through the backyard. He told her he had been looking for "a place to relieve himself," Miller said, and he eventually left the property after she threatened to call the police.
"This street at night is like pitch black. The light at night is from windows or if someone has lights on in the driveway," she said. "I don't feel safe in my house."
Keeping order
Caleb Poirier, a Camp Take Notice leader, says he is well aware of the concerns residents living nearby have with the tent community.
Each Sunday, those at the camp gather to talk and leaders are careful to emphasize those worries to new people who arrive weekly. During the winter, the camp population declines as people staying there in warmer months head inside to shelters or find other places to live.
But it's during the summer months he knows they have to be more vigilant as the camp's size grows.
The camp has a leadership board that prides itself in a set of rules designed to keep things in check and make sure day-to-day operations run in an orderly manner. Among a list of self-implemented goals: supporting a shelter system free of drugs, alcohol and violence; discovering the best practice for governing and operating a tent community and aiding camp members as they transition towards healthier, more stable lives.
"Because we have people come in from off the street, they'll say they'll come clean once they come into the camp," Poirier said, explaining an agreement residents make when they enter.
Poirier acknowledges that agreement isn't always carried out, and in that case, camp leaders will evict residents for breaking the rules. Those people are escorted out with their belongings and taken to a place of their choice away from the camp, he said.
Poirier is quick to explain challenges Camp Take Notice has encountered through the years it has existed in Washtenaw County. Residents were uprooted in 2009 from a previous location behind the park and ride lot at Ann Arbor Saline Road and I-94. The problem: it existed on Michigan Department of Transportation property.
Two MDOT dump trucks were sent to the site as people were forced to pack up their belongings.
The current location off Wagner Road also is on MDOT property, and Mark Geib, director of the Michigan Department of Transportation's Brighton Transportation Service Center, said it cannot be there forever. He has allowed the camp to remain with an understanding leaders are seeking a permanent place to relocate.
Poirier has repeatedly insisted they are.
"As long as nothing out of the ordinary has been going on, we won't do anything immediately," Geib said. "They are going to be out of there at some point, but hopefully, it's sooner than later."
A countywide issue
Michigan State Police Trooper Duane Zook patrols the Wagner Road overpass and said there's a larger challenge to tackle beyond anything associated with Camp Take Notice. Homeless people lingered in the area even before the camp relocated there, and many of those not part of the camp are the ones that struggle with substance abuse and use alcohol, he said.
"It's definitely a safety risk for the people panhandling on the ramps because we have the issue that if they are high or on some type of narcotic, they'll be stumbling out into traffic," he said.
"It's dangerous for them and for motorists as well. It's an issue we're trying to deal with."
Poirier worries neighbors form misconceptions when considering the idea of a local tent community—mostly, that an encampment will automatically bring safety concerns to the area. But if the homeless are not staying there, he said, they will only scatter elsewhere.
The problem of homelessness won't go away, he said. The Delonis Shelter in downtown Ann Arbor, for example, has 100 beds available during the winter when churches open their doors to add to its seasonal capacity.
And data from the Shelter Association of Washtenaw County notes that 1,722 single adults experienced homelessness in 2010. Almost 1,500 children received assistance.
"People don't really appreciate the size of the homeless population because they only get to see it in small pieces," Poirer said. "Breaking up a large group of homeless people doesn't mean that that population goes away, it just means that they are surviving on their own."
"It's just making apparent something that has been there all along."
Heidi Fenton covers police and courts for AnnArbor.com. Reach her at heidifenton@annarbor.com or 734-623-4673. You also can follow her on Twitter or subscribe to AnnArbor.com's e-mail newsletters.