Posted on
Wed, Feb 1, 2012 : 5:56 a.m.
Activism in 2012: SDS founder Alan Haber and Odile Hugonot-Haber leading discussion on Occupy movement
By Janet Miller
The man credited with founding the Students for a Democratic Society, the movement that came to symbolize the radicalism that swept the 1960s, hasn't given up the fight.
Alan Haber, now 75 and living in Ann Arbor, continues to labor for causes he believes in — from working with Occupy Ann Arbor to lobbying for development of an urban park on the downtown Library Lot on Fifth Avenue, where an underground parking structure is being built.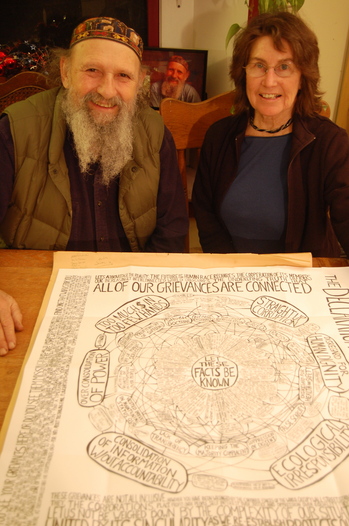 Janet Miller | For AnnArbor.com
While some of the issues have changed from the days nearly 60 years ago when Haber picketed a State Street dress shop (in space now occupied by Sava's restaurant) that forbid African Americans from trying on clothes, Haber still has the fire.
Haber and partner Odile Hugonot-Haber, who has her own history of activism, will be part of a conversation about activism and the Occupy movement Thursday at a Crazy Wisdom Bookstore and Tea Room salon.
The SDS was born out of the Student League for Industrial Democracy, founded in 1905 by the likes of Upton Sinclair and Clarence Darrow. The SDS held its first meeting in 1960 on the campus of the University of Michigan, where Haber had been a student since 1954.
But his political activism began before that: In the mid-1950s, Haber unsuccessfully worked to bring concert singer and blacklisted political activist Paul Robeson to U-M's campus. In response, he received a threatening note, written on Nazi letterhead. "It was a little chilling," Haber said. "It was a sign of reality that I wasn't aware of."
But that didn't stop Haber: He had protested when three U-M professors had been fired for refusing to sign a loyalty oath and picketed Ann Arbor Woolworth's and Kresge's stores for refusing to serve African Americans in the Jim Crow south.
And he founded the SDS. But Haber would come to learn another lesson that would repeat itself years later: There could be dissent and factionalism. By 1969, after Haber had moved to Berkeley, Calif., SDS splintered with the Weather Underground faction turning to violence. "The movement turned very hard edged," Haber said.
For the next 25 years, Haber lived in Berkeley, earning a living as a woodworker, founding a collective called the Splinter Group and living as what he calls "a freelance radical intellectual." It's also where he met Hugonot-Haber, an activist who was part of the 1968 uprising in Paris and had demonstrated against apartheid and worked for the homeless in Berkeley. They returned to Ann Arbor in 1993 when Haber's ailing mother needed care.
They found causes in Ann Arbor, but the fever of the 1960s was gone. "I was amazed that so few people in this city are involved in politics," Hugonot-Haber said. "It's a bourgeois town." She tried to organize demonstrations in favor of a single-payer health care system. It fizzled. "People weren't motivated," she said. Haber looks at the practical side. Much of Ann Arbor works at the U-M, which offers health insurance.
The couple became active in the Occupy movement last fall when Hugonot-Haber met two young visitors who were the first to occupy Liberty Plaza in downtown Ann Arbor, a park Hugonot-Haber calls "the living room for the homeless." Students and the homeless came together to occupy the space.
Ultimately, the couple said, Occupy Ann Arbor fell victim of splintering groups. Haber summed it up: "There was difficult interfacing between activists and homeless." Things grew petty with who would clean and straighten the tents, he said. These kinds of "human relations/cross classness" issues will be discussed at Crazy Wisdom Thursday night, Haber said.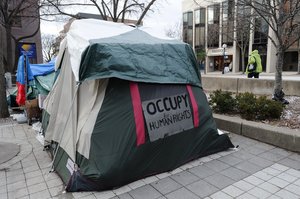 Melanie Maxwell I AnnArbor.com
Occupy Ann Arbor was never a big event, not compared with those in Boston and New York City, which Haber attended. "Here we had a little park and a few tents and a not-very-together general assembly," Haber said. "But I was blown away at Occupy Boston. There were hundreds of tents and a library and a spiritual tent."
Occupy Ann Arbor wasn't for naught, the couple said. They are behind a proposal for a 24-hour warming center for the homeless in Ann Arbor, although they haven't found space for the project.
While the 1960s became known for activism, Haber said he believes there's less apathy among young people today. "A lot more people know what's going on, kids are more aware of the hypocrisy," Haber said. But economic realities - students are focused on the high cost of their education - make it harder for students to become activists. "I paid $50 a semester, now it's more like $12,000 a semester," Haber said. "We used to say activism is a five-year undergraduate course." Is he disheartened? He won't say.
"We (in the 1960s) put out a vision of inclusion and that vision got shattered. Now, students pick out one thing that they can work on usefully. Direct action - demonstration and confrontation - ended in the '60s. That form of activism exhausted itself," he said.
Thursday's discussion at Crazy Wisdom, 114 S. Main, begins at 7 p.m. Click here for more information.