Posted on
Wed, Mar 14, 2012 : 7:49 p.m.
Security increased after bomb threat at Skyline High School in Ann Arbor
By Paula Gardner
A bomb threat found at Skyline High School in Ann Arbor has school officials telling students and parents to expect heightened security on Friday.
The threat was found Tuesday in the boys bathroom on the 2nd floor of the school, according to the note that was sent to parents shortly after 4 p.m. Wednesday.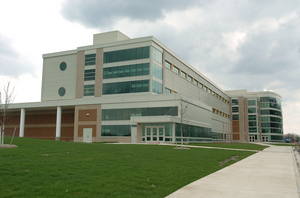 AnnArbor.com file photo
"The threat states, 'I have a bomb Friday, I swear'," the note said. "No specific time was stated."
Ann Arbor Police searched the building near M-14 and North Maple on both Tuesday and Wednesday, according to Principal Sulura W. Jackson.
In addition, bomb-detecting dogs will search the building Friday. Entry to the school will be limited to the main door, and backpacks will be searched by district staff.
Restroom access may be limited, Jackson said in the letter, and students will not be allowed to leave classes without a pass.
"While we understand this is an inconvenience, it is important for students to understand how seriously we take this situation," Jackson wrote.
Jackson also indicated that the district is seeking information about the person who wrote the note.
She wrote: "This type of threat not only disrupts our ability to fully serve our students but it creates an ongoing atmosphere of uncertainty in our school community. A full investigation will be done to try and determine who wrote the message. If it is determined who wrote this threat they will be dealt with under the district's disciplinary policies and the law. This type of threat is not tolerated. The Skyline community should be a safe place for our students and staff."
The school will be closed for records day on Thursday.
Similar precautions were taken at Forsythe Middle School after a bomb threat there in February.