Posted on
Wed, Sep 11, 2013 : 7:15 p.m.
Self-defense or 'execution'? Jury deliberating Ypsilanti murder case
By Kyle Feldscher
At 3:51 p.m. Wednesday, six men and six women began the task of deciding if Leonard Ware shot and killed Bhagavan Allen in a broad-daylight murder on an Ypsilanti street or in an act of self-defense.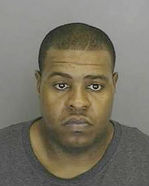 The second day of Ware's trial wrapped up with the closing arguments from Washtenaw County Assistant Prosecutor
Paul Barnett
and Ware's attorney
Jeffrey Taylor
. After a day-and-a-half of testimony, the two men reiterated much of their statements from the beginning of Tuesday's court hearing.
Barnett said Ware, 35, took the stand during the trial and admitted to shooting and killing Allen. However, Barnett disputed Ware's claim that he had a reason to be afraid for his safety, often referring to the fact that Allen was only carrying a water bottle when he was shot.
Barnett said Allen's death — suffering wounds to his back and face — was akin to an "execution."
"If there was one shot in Mr. Allen maybe we'd be talking about self-defense, maybe," Barnett said. "Two shots? Maybe. He was shot 10 times."
Ware is charged with open murder, carrying a concealed weapon, being a felon in possession of a firearm and possession of a firearm during the commission of a felony. The charges stem from Allen's death from a shooting around 4 p.m. Oct. 3 on South Grove Street in Ypsilanti.
Taylor said Ware took the stand during the trial and admitted to shooting and killing Allen when the two were going to settle an argument at Marsh Plating Co., where they both worked. Ware was Allen's superior and had confronted him about not working hard enough, which started a verbal argument that turned physical.
During that argument, Allen slapped Ware in the head and told him "You better go get that thing," Taylor said. That statement, coupled with Allen's "violent and aggressive reputation," led Ware to believe he was in danger, Allen said.
Taylor disputed witnesses' version of events that had Ware shooting Allen in the back while his hands were raised in the air. He said Ware and Allen were walking down opposite sides of Grove and were meeting in the middle of the street to fight, when Allen turned and appeared to reach for something.
"And, my client said, 'When he reached, I reached,'" Taylor said.
Barnett stuck to the prosecution's version of events — that Ware shot Allen in the back as he ran away, before firing more shots into the 29-year-old Superior Township man after he fell to the ground. Barnett pointed to the location of Allen's wounds, multiple in his back and one in his face, as evidence Ware was shooting to kill and not to protect himself.
Barnett added Allen's "You better go get that thing" statement was not to be taken seriously.
"That sounds like bravado to me," Barnett said.
Taylor also questioned the credibility of Todd Von Schulze, one of the prosecution's key witnesses. Von Schulze testified in a preliminary exam that he saw Ware empty his pistol into Allen as he was on the ground.
Von Schulze testified he heard gunshots and Allen was walking onto South Street from Grove. After the shots, Von Schulze looked out the window and saw Allen running back onto Grove Street, when he was dropped by shots fired by Ware. Ware then ran up to finish Allen off, according Von Schulze.
However, Taylor said Von Schulze's story changed from the interview in a police report to his testimony in the trial.
"This is too important … to have a witnesses who changes their story every time they testify," Taylor said.
Just before the jury was set to receive instructions from Washtenaw County Trial Court Judge Darlene O'Brien, Taylor approached the jury with a photo of Allen's dead body.
Set on a table in the University of Michigan Hospital's morgue, Allen was turned so his back faced the camera. Taylor held the picture against his chest and called the jury's attention to a tattoo on Allen's back. The tattoo is of two pistols and the words "Highland Park."
Taylor indicated the tattoo was evidence that Allen was a dangerous man.
"This is what my client was dealing with that day," he said.
Kyle Feldscher covers cops and courts for The Ann Arbor News. He can be reached at kylefeldscher@mlive.com or you can follow him on Twitter.