Posted on
Thu, Feb 16, 2012 : 4:30 p.m.
Senate majority leader introduces bill to ban graduate student unions
By Cindy Heflin
State Senate Majority Leader Randy Richardville has introduced a bill in the Michigan Legislature that would bar graduate student research assistants from unionizing, the Detroit Free Press reported.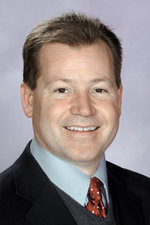 The issue is a controversial one at the
University of Michigan
, where GSRAs maintain they are employees and want to unionize, but the university says they are students and don't have the right to form a union.
The unionization attempt initially received criticism from U-M administrators, but the school's Board of Regents voted in May to approve GSRAs right to unionize.
After the regents' vote, GSRAs sought permission from MERC to unionize, but were initially denied. A group of GSRAs and advocates appealed that denial, and MERC voted to let an administrative judge decide whether GSRAs should be allowed to unionize.
Several deans at U-M and the Faculty Senate Advisory Committee also have opposed the unionization effort.
Richardville is a a Republican from Monroe who represents part of Washtenaw County.