Posted on
Mon, Aug 12, 2013 : 5:59 a.m.
7th-hour fee lawsuit: Ann Arbor Public Schools has lost case over fees before
By Amy Biolchini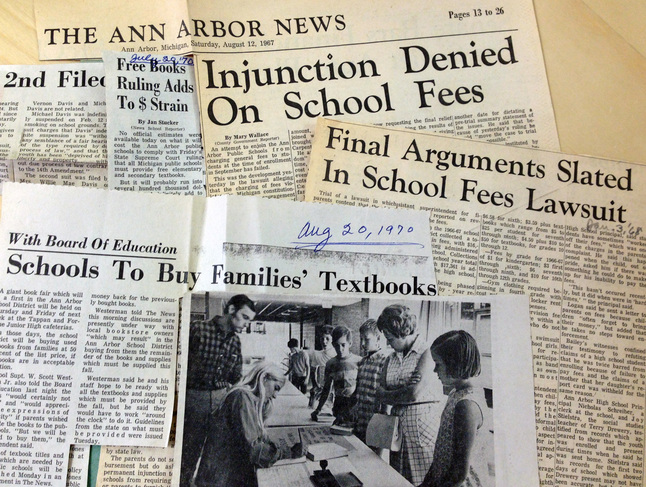 Amy Biolchini | AnnArbor.com
A
lawsuit filed Wednesday
challenging the
Ann Arbor Public School
's new policy to charge students for a seventh class at
Huron
and
Pioneer
high schools isn't the first time the district has come under fire for student fees.
A 1968 circuit court ruling on a class action lawsuit brought against Ann Arbor schools in 1966 found various fees the district was charging students for enrollment to be unconstitutional.
An appeal by the plaintiffs in the lawsuit was decided by the Michigan Supreme Court in 1970 and served as the model for statewide policy that continues to be the guiding principle for school districts in regards to charging students fees for classes, materials and textbooks.
AAPS maintains that advice from an independent legal firm received by the Board of Education had taken into account the 1968 and 1970 court rulings in its recommendation that the board was safe in approving charging students $100 per semester for a 7th class.
Bond, et al vs. the Ann Arbor School District
The original class action lawsuit was filed by Lillian Bond and Daniel Fusfeld — two parents of students in Ann Arbor schools — and challenged the district's fee-charging policies for activities and textbooks as unconstitutional.
Bonds claimed that two of her children were sent home because they didn't pay the fees — which the school administration dismissed as not true during the trial.
Fees during the 1966-67 school year that the 1968 lawsuit challenged were:
Fees by grade for students: $1 for kindergarteners, $3 for grades one through six, $6 for grades seven through nine and $10 for grades 10 through 12
Materials fees for art, industrial art, home economics and sewing classes
Fees for pencils and textbooks
Fees for gym clothes and locker rental
Fees for the supervision of children who didn't go home to lunch
$1 swimsuit rental fee for girls
W. Scott Westerman Jr. served as the assistant superintendent for AAPS from 1963-67, when he was promoted to superintendent and served until 1971.
The Ann Arbor schools' fee policy was a historic one and was in place prior to 1963 when he was hired, Westerman said Friday. Westerman said the school district's budget was not under stress under his term until about 1970, when a millage failed and the district had to give layoff notices to 300 employees - which they later recalled.
Though he personally didn't think the fees the district was charging were equitable, Westerman said the district didn't move to eliminate them until they were challenged in the lawsuit.
"I felt the concept of a free education was not being realized or implemented fully when I was charging these fees," Westerman said.
The Washtenaw County Circuit Court ruled that all of the fees were unconstitutional — but it upheld the district's fees for textbooks. The case was appealed to the state's high court, which ruled that all public schools must provide textbooks for students with no fee.
Amy Biolchini | AnnArbor.com
The decision prompted Ann Arbor Public Schools in 1970 to buy back textbooks from students at 50 percent of their original price to build its library.
The Michigan Supreme Court's order also forced the district to refund $140,862, plus interest, to parents of students that had paid fees in the 1966-67 and 1967-68 school years.
In response to the high court's decision, the plaintiffs' lawyer, Arthur E. Carpenter of Ann Arbor, told the Ann Arbor News he was "delighted."
"To us, free public education means without cost. It means that any qualified child can attend the public schools without a penny in his pocket and with his head held high," Carpenter said in a July 1970 interview with the News.
The state's position on fee charging
The Michigan assistant attorney general issued an interpretation of the Supreme Court's 1970 decision on the case, which prompted the state's Board of Education to draft a position statement on free textbooks, materials and the charging of fees in 1972. That document is still used by the state as a guideline today.
The document states school districts may not make charges for any required or elective courses such as for:
General or registration fees
Course fees or materials ticket charges
Textbooks and school supplies
However, school districts may charge students for class or organizational dues.
The state Department of Education declined to comment on the lawsuit, but provided a 2011 memo from the state's Superintendent of Public Instruction Mike Flanagan.
In the memo, Flanagan reminded public school officials of the state's policies of charging students fees as many school districts under severe budget pressure sought revenue sources.
The memo also included a reminder of the precedent set by the ruling in the 1970 class action case against AAPS:
School districts may not make charges for any required or elective course, such as for general or registration fees, course fees, and/or textbook and school supplies. School district may determine the reasonable quality and quantity of school supplies that will be provided. The district may also determine the length of time such materials are provided.
School districts may charge fees for extracurricular activities, but only on a "Pay to Participate" or "Pay to Play" basis. Fees that are portrayed as mandatory costs for families are not allowable. School districts also should make provisions so that students without financial means are not excluded, within reason.
A review of the 1968 and 1970 rulings was taken into consideration by AAPS' independent legal counsel, Collins & Blaha of Farmington Hills, in its recommendation to the board on the seventh class issue, said Liz Margolis, spokeswoman for AAPS.
"The legal opinion was that it was a completely different situation," Margolis said.
Friday, Margolis maintained the school district's stance that because the state's per-pupil foundation allowance is to provide the mandated six credit hours to students, the district is not legally required to offer students the ability to receive seven credit hours in a school year.
The Ann Arbor Board of Education approved the $100 per semester charge to students who choose to take a seventh class in the same lengthy June 12 meeting in which it approved its budget.
The board cut $8.7 million out of its operations for the 2013-14 school year.
During that budget meeting, Trustee Glenn Nelson said he fully expected the board to be sued for the decision, but believes it would stand the test of a lawsuit due to the board's legal advice.
Wednesday, the American Civil Liberties Union of Michigan filed a lawsuit on behalf of two Ann Arbor schools families against AAPS.
The suit claims that students at Pioneer and Huron high schools need a seventh class hour in order to complete their graduation requirements if they choose to participate in music, art, foreign language and Advanced Placement classes, or alternate career programs.
AAPS could set a dangerous precedent in Michigan if it begins to implement a tuition-based learning model in public schools with tightening budgets, the ACLU warned.
The firm of Collins & Blaha will continue to represent AAPS through the lawsuit followed by the ACLU, Margolis said.
The changing seventh class option
About 16 percent of students at Huron, Pioneer and Community high schools enrolled in a seventh class in the 2012-13 school year, Margolis said.
For Community High students, a seventh class is an option if they choose to dual-enroll in either Huron or Pioneer.
Beginning this 2013-14 school year, students at all three of those schools will face the $100 per semester charge for a seventh class.
It's too soon to estimate how many students will seek the seventh class option this year, Margolis said. Class registration at the high schools begins Aug. 20-21.
Margolis said AAPS will offer scholarships to students seeking a seventh class if they cannot afford the charge in the same manner that the district offers scholarships for its "Pay-to-Play" policy with sports.
Though former AAPS Superintendent Westerman was not familiar with the district's decision this spring to charge students $100 per semester for a seventh class, he offered the following comment:
"Our financial circumstance is making schools less than they should be," Westerman said.
Amy Biolchini covers Washtenaw County, health and environmental issues for AnnArbor.com. Reach her at (734) 623-2552, amybiolchini@annarbor.com or on Twitter.