Posted on
Mon, Apr 4, 2011 : 2:57 p.m.
Hundreds protest cuts to public education at rally on University of Michigan campus
By Kyle Feldscher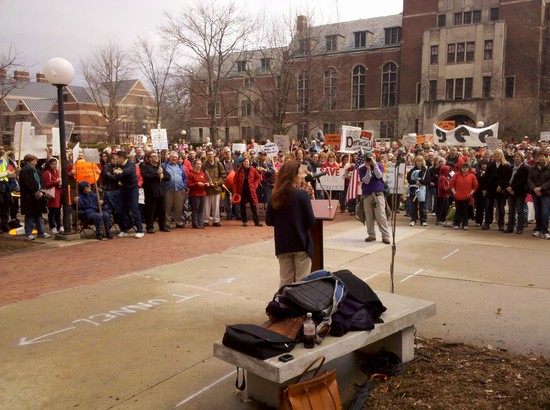 Kyle Feldscher | AnnArbor.com
The cuts to public education in Gov.
Rick Snyder's
proposed budget continue to meet loud, boisterous opposition, this time at a rally on the
University of Michigan
campus on Monday.
Several hundred union members and supporters gathered on Ingalls Mall to mark the 43rd anniversary of the assassination of Martin Luther King, Jr. with activism of their own. With chants of "That's not right" and "No budget cuts to education," protesters made their opposition to Snyder's plans loud and clear.
Ann Arbor school board Trustee Christine Stead compared the amount of money spent on students in the state of Michigan to the amount spent on prisoners, and said Snyder's campaign promise of more and better jobs could not come true with a depleted public education system.
"We know we need a better economy in Michigan but cutting education is not the way to get there," she said.
Stead was one of many speakers who told the crowd what they believed the consequences of Snyder's budget cuts could mean.
The governor has proposed a $300 per pupil cut to K-12 school districts for the 2011-12 school year, on top of a $170 per pupil cut that was not restored and increased retirement costs that are expected to be the equivalent of about $230 per pupil. Snyder also has proposed a flat 15 percent cut to higher education funding.
Many signs displayed and rhetoric used during the rally hinted at Snyder being a dictator. However, the main message of the rally was for solidarity among the middle class to fight budget cuts coming from Lansing.
Brit Satchwell, president of the Ann Arbor Education Association, said the cuts to education would touch everyone in Michigan, which means everyone has to pull together.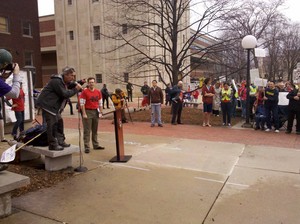 Kyle Feldscher | AnnArbor.com
"I always knew when it comes and hits the fan like this, we'd meet all kinds of new family members," he said.
The rally was one of many We Are One events going on this week. Another rally was scheduled in Ypsilanti on Monday afternoon and a teach-in is scheduled to take place from 2-5 p.m. Tuesday in Room 126 in East Quadrangle on U-M's campus.
Among the groups at the rally were the Teamsters, United Auto Workers, nurses unions, custodial unions, various activist groups and firefighters.
Craig Ferris, an Ann Arbor firefighter, said he was proud to speak to the crowd and advocate for more funding for public employees. He said the people at the rally were all hard workers and deserved to have the right to collectively bargain.
"I know something that's very common between all of us," Ferris said, "and that is that we work hard for a living and we deserve to make a living."
Among the speakers from educator groups was Bonnie Halloran, president of the Lecturers' Employee Organization.
Halloran said Snyder's budget was "not about jobs, but about power" and said the large crowd had gathered for a "righteous cause." She said the people of Michigan deserve to have well-funded public schools. She also took some swipes at right-wing Republicans, including members of the Tea Party.
"Tea parties are for little girls and their imaginary friends," Halloran said.
The final speaker of the afternoon was Rodrick Green, pastor of the New Hope Baptist Church of Ann Arbor.
Green said the crowd needed to remember the spirit of King and continue the quest for justice in his name.
"We honor him because he was a man who dared to believe in the United States Constitution," he said. "And that meant he believed every man was endowed with the right to life, liberty and the pursuit of happiness — and the right to bargain collectively."
Kyle Feldscher covers K-12 education for AnnArbor.com. He can be reached at kylefeldscher@annarbor.com or you can follow him on Twitter.