Posted on
Wed, Dec 15, 2010 : 6:02 a.m.
Privatize the University of Michigan to save the state money, budget document says
By David Jesse
Listed in the pages of a document outlining different ways for the state of Michigan to make $3 billion in cuts is an item sure to capture attention in Ann Arbor — make the University of Michigan private and save the state millions of dollars.
But here's the catch: the 27-page document circulating inside Lansing for the last month was simply meant as a jumping off point, budget office officials said. It's not a recommendation for action, either from outgoing Gov. Jennifer Granholm or Governor-elect Rick Snyder, they said.
The item in the document simply says "privatize University of Michigan over 5 years." Unlike some other items, it has nothing listed in the comments/discussion field.
The document lists all kinds of measures to save cash, including privatizing a prison, requiring local municipalities to provide police protection in lieu of Michigan State Police troopers and eliminating state aid to libraries, just to name a few.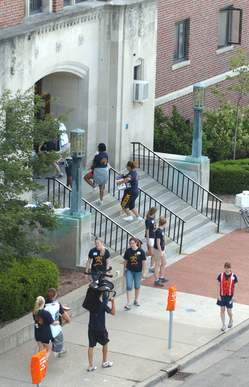 U-M got more than $300 million in state aid this year.
University officials said they've been hearing about the document for several weeks now.
But spokesman Rick Fitzgerald said they haven't heard it endorsed by any lawmakers in Lansing. And the university has no plans to make a push to drop state money and become a private college.
"For our entire history, we've been a public university," Fitzgerald said. "The university absolutely is making no push to go private."
The budget document isn't the first time the idea of making the university private has been mentioned. Fitzgerald noted that every few years, the issue surfaces again. For example, in 2004, the Mackinac Center for Public Policy argued in a position paper that making the university private would be good for both U-M and the state.
Ann Arbor resident Mary Beth Gold, whose son graduated from U-M, said she thinks it should stay public.
"If nothing else, it's a symbolic thing," she said. "I think having it be public makes it more a part of the whole state than if it was private, even though I think it's largely acts like it's private now."
David Jesse covers higher education for AnnArbor.com. He can be reached at davidjesse@annarbor.com or at 734-623-2534.