Posted on
Wed, Apr 4, 2012 : 6:44 p.m.
Ann Arbor house catches fire as homeowner burns weeds
By Angela Cesere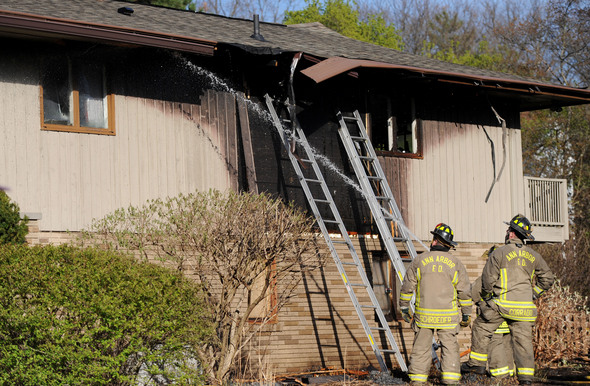 Angela J. Cesere | AnnArbor.com
A home in the 3000 block of Waldenwood Drive suffered burn damage Wednesday after a grass fire spread to the home and caused the attic to go up in flames.
Ann Arbor fire Captain Randy Menard said the fire began at 5:02 p.m. and the first crew was on scene seven minutes later. By 5:30 p.m., the blaze was extinguished, he said.
Menard said the homeowner was burning weeds outside the home, which caused the grass on the lawn to light. The grass fire then spread to the side of the house and up into the attic, Menard said.
No one was injured, although the homeowner's wife did complain of a sore throat, Menard said. She did not seek medical attention.
Menard said bedrooms inside the home were damaged, along with the roof and siding that had burned. Firefighters had to break through the home to make sure all the insulation inside the residence was free of embers, he said.
A monetary estimate for the damage was not immediately available on Wednesday.