Posted on
Tue, Jan 19, 2010 : 6:05 a.m.
Sierra Club opposing transit center project on Ann Arbor parkland
By Ryan J. Stanton
A proposal to build a new transit station on Ann Arbor city parkland is facing opposition from a local environmental group.
The executive committee of the Huron Valley Group of the Sierra Club, representing about 3,000 members in the area, has passed a resolution opposing the city's Fuller Road intermodal transit station project.
"We are outraged over the notion that the city, very recently after passionately assuring the public that the city's parkland would never be sold to outside interests without a vote of its citizens, would turn right around and spend hundreds of thousands of its dollars and study a proposed permanent car structure to be built on city parkland," said James D'Amour, a Sierra Club executive committee member.
"Very clearly this violates the spirit - if not the fine print legal definition - of the city's ordinances," he said.
The city is partnering with the University of Michigan to build a new transit station - for buses, trains and other modes of transportation - near the university hospital. City officials have said the project will be completed within the existing footprint of a surface parking lot the city currently leases to the university. 
The revenue from that lease currently goes to the city's parks and recreation operations since the parking lot lies within the boundaries of the city's Fuller Park.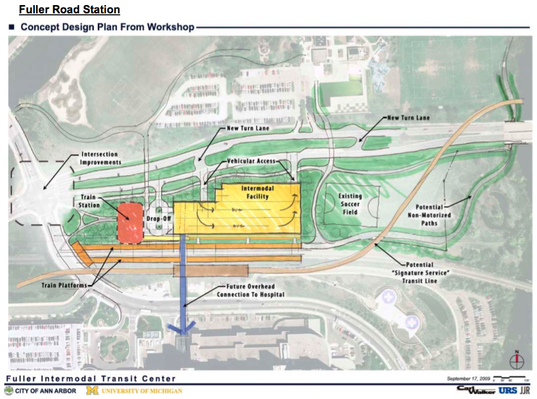 Mayor John Hieftje said he has wrestled with some of the same concerns that the Sierra Club members feel strongly about. He said any revenues generated from the parking lease agreement with the university will continue to support city parks.
Hieftje said it's important to note that the land - although under the umbrella of the city's parks system - has been a parking lot for as long as anyone in city government can remember. He said he sees an overall benefit to the community - including some environmental gains - by making a small environmental tradeoff.
"I see the huge environmental benefit and society benefit to having transit, particularly in an age where we can look at gasoline prices going up and up and up, where we're trying to curb carbon," he said. "Even if the rail didn't come along immediately - which I'm totally convinced it will - this is a transit center that will serve buses, it'll serve our bicycle lane system, it prevents the university from building two parking structures on Wall Street, where they were then planning on putting people on a bus and taking them back to the hospital.
"Two million people a year visit the hospital, 17,000 people a day go to work there, and a whole lot of these folks come from the east," Hieftje said. "So the environmental tradeoffs and the benefits - given that this was the only place in town that could serve this need - is something that I thought long and hard about but had to make the decision that we did."
D'Amour acknowledges no actual green space is being taken away. But he said it's wrong to turn what might have been considered a temporary parking lot - that could have reverted to parkland someday - into a permanent transit station.
"The use of public lands designated as parks should be dedicated exclusively for city parks use, not for other purposes," he said. "The use of parkland for, well, parking ... is not really a parks and recreation use."
At a meeting in December, City Administrator Roger Fraser presented council members with varying options for eliminating general fund support for parks, discontinuing maintenance of some parks or selling parks. No decisions were made.
The Fuller Road transit station project is expected to come before the University of Michigan Board of Regents for approval Thursday. Timothy Slottow, executive vice president and chief financial officer, is recommending the board approve hiring Walker Parking Consultants to proceed with designs.
The first phase of the development includes constructing an intermodal facility with four covered bus loading zones and waiting areas, a covered area for bike hoops and lockers, parking for 1,000 vehicles (78 percent for university and 22 percent for city use), improvements to Fuller Road immediately adjacent to the site for vehicle access, and upgrades to a multi-use path along Fuller Road.
"This project is unique since we would be constructing the facility on city-owned property and following city building codes," Slottow wrote in a memo to the board. "We will also need approval for the lease on city-owned land since it would be for a period of greater than 10 years. We will seek approval of the lease at a later date, but prior to seeking bids or awarding construction contracts for the project."
Slottow said the city will be in charge of managing the site preparation at an estimated cost of $3 million. In addition, the city will pay for an environmental assessment of the property.
He said there will be an increase of about 780 university parking spaces as a result of the project. The estimated cost of the project at $46.55 million. 
Costs will be shared between the University of Michigan and the city of Ann Arbor in proportion to the number of parking spaces available to each - 78 percent and 22 percent, respectively.
"This is going to be a transit center that is something we've needed for a long time," Hieftje said. "And when I look at rail, which is coming down the tracks, we probably only have one chance at this. There's a whole lot of federal money going into it. This may be our best chance in decades. Southeast Michigan is the only place in the nation that doesn't have commuter rail, and so we're going to keep working on it."
Ryan J. Stanton covers government for AnnArbor.com. Reach him at ryanstanton@annarbor.com or 734-623-2529.