Posted on
Sat, Jul 3, 2010 : 6:03 a.m.
Single-stream recycling in Ann Arbor starts Monday
By Tina Reed
Updated: This story has been changed to reflect a correction in the items to be collected as part of Ann Arbor's single stream recycling program. It will accept additional plastics, including #1, #2, #4, #5, #6 and #7 plastic, that are in the shape of a plastic bottle or tub. For example, a plastic yogurt container might be recyclable but it's smaller plastic lid would still not be. It will also accept glass and metal, bulky plastics and paper & flattened boxes. For more information, visit: http://www.a2gov.org/government/publicservices/fieldoperations/solidwasteunit/Documents/solidwaste_recycleguide_2010_07_05.pdf
Ann Arbor residents should start throwing their unsorted recyclables into a single cart beginning Monday as part of the city's new single-stream recycling program.
While residents won't yet have new recycling carts from the city, they should still begin putting unsorted recycled materials in the containers they previously used. Cart distribution begins July 9, and all carts should be delivered to households within the next six to eight weeks, said Tom McMurtrie, Ann Arbor's environmental systems analyst.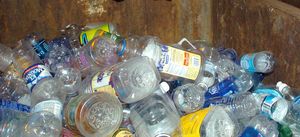 The change, part of a $4.6 million project to retrofit the city's Materials Recovery Facility, is meant to be more convenient, encourage increased recycling, make pickups more efficient and ultimately capture more recycled materials to be sold for reuse, officials have said.
The move to single-stream recycling was approved by the Ann Arbor City Council in November. Since then, the city also agreed to a contract with the company RecycleBank, which will provide vouchers and coupons to residents based on the amount each household recycles.
Those vouchers and coupons can be used at certain businesses or donated to charities. The RecycleBank program will begin Sept. 1. The new carts will have radio-frequency identification, or RFID, cards to electronically track how much households are recycling to award the points.
Starting Monday, more recycled materials will be allowed for collection. Materials that can be recycled include:
Plastic #1: Commonly used to make 2-liter soda bottles, cooking oil bottles and peanut butter jars.
Plastic # 2: Commonly used to make detergent bottles and milk jugs.
Plastic #4: Commonly used to make dry cleaning bags, produce bags, trashcan liners and food storage containers.
Plastic #5: Commonly used to make bottle caps and drinking straws.
Plastic #6: Commonly used to make packaging pellet, cups, plastic tableware, meat trays, "clam-shell" to-go containers (plastic, not Styrofoam).
Plastic #7: Commonly used to make food containers (Tupperware).
Bulky plastic HDPE #2: Items like buckets, crates, trays, outdoor furniture and some toys.
The city will still be unable to accept PVC, Styrofoam or plastic bags due to problems they can cause at the recycling center.
Tina Reed covers health and the environment for AnnArbor.com. You can reach her at tinareed@annarbor.com, call her at 734-623-2535 or find her on Twitter @TreedinAA.