Posted on
Mon, Jan 23, 2012 : 2:52 p.m.
Skyline High School bus lands on side after slide down icy hill
By Cindy Heflin
Previous story: Skyline High School bus tips over after sliding on icy road
A school bus driver was ticketed this morning after a bus with eight Skyline High School students on board spun on an icy road north of Ann Arbor, slid down an embankment and wound up on its side.
The driver for the Washtenaw Intermediate School District was ticketed for driving too fast for conditions and has been placed on paid administrative leave during the accident investigation, a standard procedure after any accident, said WISD Superintendent Scott Menzel. WISD provides transportation services for Ann Arbor, Ypsilanti and Willow Run school districts.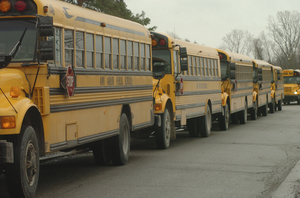 No one appeared injured at the crash scene, but Thomas Moore, director of transportation for the Washtenaw Intermediate School District, said three students who complained of headaches have since sought medical attention at an urgent care facility.
The bus was traveling south on an unpaved section of North Maple Road south of Stein Road coming down a hill when it hit a patch of ice, Moore said. The bus spun and slid down an embankment before coming to rest on its side against some trees, Moore said.
Moore said students on the right side of the bus likely slid out of their seats when the bus landed on its left side. Three students he saw sitting in a sheriff's department vehicle after the crash appeared calm, he said. "They remarkably did not appear to be shaken up."
Sheriff's department vehicles transferred the students from the crash site to a new bus, Moore said.
Moore could not provide the exact time of the crash, but said it was likely between 7 and 7:30 a.m. The students arrived at Skyline on their new bus about 9 a.m., Skyline High School Principal Sulura Jackson said in a message emailed to parents. Administrators and the school nurse met the students, and parents were notified, school officials said.
Moore noted that some roads were icy this morning in outlying areas because of overnight rainfall that fell on top of snow. The fact that the road is on a hill also made it particularly treacherous this morning, he said.
A few other buses were not able to make it up hills until the Washtenaw County Road Commission came out to lay down sand and scrape the roads, Moore said. One bus also had to be pulled off an icy patch after it could not gain enough traction to move.
Bus drivers were not able to pick up some students in outlying areas because of the icy road conditions, district spokeswoman Liz Margolis said this morning. Moore said he did not know how many students were affected.
"I do know that we alerted the drivers that they were to make a judgment call if they felt that road conditions were too hazardous for them to proceed normally."
Moore said paved roads were in good condition this morning, and 99 percent of buses completed their routes with no problems. Moore could not provide a damage estimate for the bus that overturned, but he said it was dented and had some mirror brackets damaged. A tow truck pulled it out of the ditch so that it could be driven back to the bus garage, he said.
Jim Harmon, director of operations for the Washtenaw County Road Commission, said dirt roads packed with snow can become treacherous once rain falls. Drivers have been out today laying down sand and scraping those roads, he said.
Menzel noted no other buses had accidents this morning, despite some poor conditions.
"We're grateful that the students weren't injured," he said.