Posted on
Fri, Jan 27, 2012 : 9:42 a.m.
Skyline High Students attend robotics competition; U of M Grad headlines Michigan Philharmonic Concert
By AnnArbor.com Staff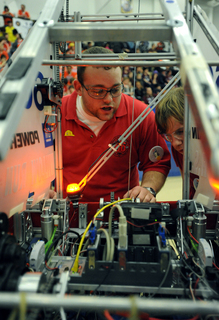 Lon Horwedel | AnnArbor.com
From Skyline students participating in a robotics competition to a University of Michigan grad headlining in a "Sunday with Schubert" concert, here's a roundup of some of the stories posted on AnnArbor.com's Community Wall this week:
By: susan weir: Skline Robotic Team Kicks off!
Skyline High School FIRST robotics team 3322 joined an estimated 60,000 around the world for the National 2012 FIRST robotics Competition 2012 kickoff Saturday, Jan. 7, at Washtenaw Community College.
By: Beth Stewart: U of M Grad headlines Michigan Philharmonic Concert
The Michigan Philharmonic presents "Sunday with Schubert" on February 12, 2012, featuring the orchestras' principal Clarinetist, Lisa Raschiatore, who will perform Aaron Copeland's jazzy "Clarinet Concerto."
By: Jerry: How Wall Street Reshaped America
By: Ypsilanti Jaycees: Speed Dating Charity Fundraiser
By: Janet Hawkins: Mardi Gras Tickets Are Still Available
By: AnnArbor.com Freelance Journalist: Artist April Wagner adds to visual feast at Auto Show with bold, airy creation
By: Barb Hiltz: Cancer Support Community Receives Knight Foundation Grant
By: Daneen: 50th Anniversary
By: Jean Lesch: Free day of dental care for kids
Arbor.com's Community Wall is a spot for local people to post local stories, news and announcements. To post a story, sign in to AnnArbor.com, then go to www.annarbor.com/community and use the Got News? Tell Us function at the top to submit your news. If you have a photo to add, e-mail it to us at community@annarbor.com and we'll insert it into your story.