Posted on
Wed, Feb 22, 2012 : 7:37 a.m.
Winter blast could dump up to 5 inches of snow on Ann Arbor area
By Cindy Heflin
A new blast of snow headed toward Ann Arbor could dump up to 5 inches on the area by Friday, the National Weather Service says.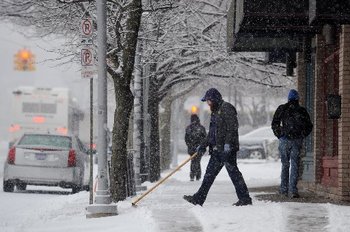 Melanie Maxwell | AnnArbor.com
A low-pressure system moving across the Ohio Valley is expected to bring snow to the area Thursday night, said
Amos Dodson
, a meteorologist with the National Weather Service in White Lake Township.
Accumulations Thursday night could range from 2 to 4 inches. The low is expected to drop to about 30. The chance of snow is 80 percent.
More snow is likely on Friday with an additional accumulation of 1 to 2 inches possible. The day is also likely to bring some melting as the temperature climbs to around 37.
Before we get to the snow, expect rain showers in the Ann Arbor area Wednesday morning and cloudy conditions in the afternoon. Temperatures will climb to around 40, but it will be breezy with winds gusting to 25 mph.
Snow showers are possible Wednesday night with a low around 30. Before the serious snow hits Thursday night, there's a chance of snow Thursday morning. It's expected to turn to a rain and snow mix by 11 a.m. The temperature will climb to about 39. The chance of precipitation is 50 percent.
For updated conditions and weather forecast's any time, check AnnArbor.com's weather page.