Posted on
Wed, Feb 8, 2012 : 5:28 p.m.
Gov. Rick Snyder expected to propose 3-percent increase to Michigan education funding
By Danielle Arndt
Previous story: Schools, others hope for money in Michigan spending plan
Gov. Rick Snyder is expected to propose a 3-percent increase to education funding during his budget presentation Thursday, according to a report by Lansing news service Gongwer.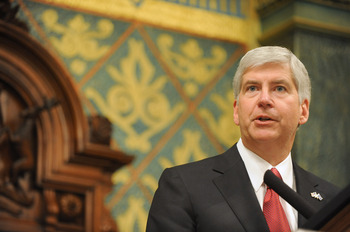 AnnArbor.com file photo
Gongwer said the increase will include funding to both colleges and universities as well as K-12, with K-12 receiving about a 0.8-percent increase.
Rep. Rick Olsen, R-York Township, said he would be surprised if the governor didn't tie at least some of the money to best practices, as Snyder piloted in 2011. He said although there has been discussion about tying the money to student achievement, he does not believe the administration "feels quite ready to do that yet."
"I think we're headed down that road, but I think we'll just see almost an extension of the best practices from this year," he said.
Scott Menzel, superintendent of the Washtenaw Intermediate School District, said if incentives for dollars are in Snyder's plan, he hopes the state's ISDs will be eligible this time.
Intermediate school districts were not included in the "best practice" initiatives Snyder proposed in 2011.
Menzel called it a shame because ISDs have been sharing services for years and are typically on the forefront of helping their districts share services, too.
Menzel said although Snyder's current best practices are one-time funding opportunities, he is not opposed to them.
"Most districts have already submitted them or are in the process of submitting them, and so I wouldn't say the process was too onerous," he said. "But when we already experienced a $400 cut in the foundation grant and have competing pressures to cut our budgets and share services — it's a lot."
Last year, the minimum per-pupil grant was cut from $7,316 to $6,846, but districts could earn back $100 per student by meeting at least four of five stipulations made by the state.
What Menzel would most like would be to see the governor do something to address the retirement rate, he said.
School districts' contribution rates for retiree health care costs will increase from 25 to 27 percent for 2012-2013, according to the Michigan Office of Retirement Services.
"If something isn't done," Menzel said, "the increase (to K-12 funding) might be swallowed up in retirement costs."
Olsen, who is part of a collaborative House and Senate group looking at retirement reform, said there is a push to keep districts' contribution rates at a net average of 22.5 percent. He said 22.5 percent is what most districts currently are paying after receiving some one-time money from the state.
Districts' were able to reduce their contribution from 25 to 22.5 percent by putting their one-time money toward this rate, which Olsen said both the House and the administration have stressed one-time money should be used toward legacy costs or unfunded liabilities, not ongoing commitments.
Snyder will present his budget in the House Appropriations Room at 11 a.m. Thursday. It will stream live here on the House website.
Staff reporter Danielle Arndt covers K-12 education for AnnArbor.com. Follow her on Twitter @DanielleArndt or email her at daniellearndt@annarbor.com.