Posted on
Tue, Mar 13, 2012 : 3:31 p.m.
New law prohibits University of Michigan student researchers from unionizing
By Kellie Woodhouse
Gov. Rick Snyder signed a law Tuesday that prohibits graduate student research assistants from unionizing, thwarting a yearlong mobilization effort by a group of University of Michigan student researchers.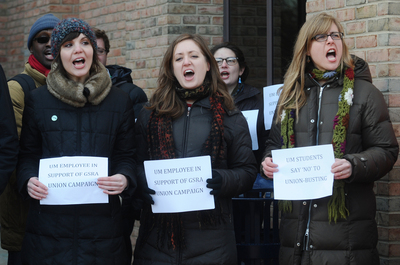 Melanie Maxwell I AnnArbor.com
The law says a GSRA "is not a public employee entitled to representation."
The U-M Board of Regents voted 6-2 in May to consider student researchers employees and gave GSRAs the green light to vote to form a union.
The regents' decision has been opposed by several U-M administrators, faculty and state politicians, including Attorney General Bill Schuette, who contend GSRAs attend U-M to learn and that to treat them like employees would compromise academic integrity.
After the regents' May decision, GSRAs needed approval from the Michigan Employment Relations Commission to form a union and have been in the midst of a hearing since February. The legislature's ban effectively puts an end to that review.
"This is an extraordinary move. I don't think anybody would argue with that," said Victor DiRita, a U-M microbiology professor and associate dean of graduate and postdoctoral studies, who testified in support of the bill before the House.
"The bill is simply trying to reboot the whole understanding of what graduate students are in light of the fact that our regents have left us high and dry on this," DiRita continued. "Regents made a terrible mistake by determining out of the blue that graduate students are actually employees."
Liz Rodrigues, a U-M graduate student instructor and representative of the Graduate Employees Organization, a group that's been advocating for GSRA unionization, said the bill is an inappropriate intervention into an issue that should be decided by MERC.
"This bill has disrupted the due process that was under way at MERC," Rodrigues said. "GSRAs don't feel like they got their day in court and are disappointed that the campaign will not end in a vote for everyone to decide but rather in this legislative maneuver."
Stephen Raiman, a GSRA and head of the U-M group Students Against GSRA Unionization, disagreed.
Raimain said current Michigan law on who could and could not be considered an employee —a central issue of dispute between those who support and oppose GSRA unionization— "needed clarifying."
"It is the legislature's job to set policy and that's what they did," he said.
After signing the House Bill 4246 Tuesday morning, Snyder conceded that GSRAs "provide valuable efforts for universities" but said "they are students first and foremost" and that "considering them to be public employees with union representation would alter the nature of the critical relationship between students and teachers."
Rodrigues contended the issue was less academically based and more politically driven.
"The bill went though through a party line vote and ultimately we were not able to stop its passage," Rodrigues said. "Taking away GSRAs right to vote is just one of a number of attacks that have happened to workers on this state."
GEO plans to join larger statewide union efforts to put a constitutional amendment on the ballot in November that would guarantee all Michigan workers the right to unionize. If the initiative receives the roughly 322,600 signatures necessary and if the amendment passes in November, GEO believes the legislature's recent ban on GSRA unionization will be subject to repeal.
Either way, both sides said they expect the issue will not go away anytime soon.
"I have no illusion that the bill today is ending this," DiRita said. "In some measure we're going to keep having this discussion."
Kellie Woodhouse covers higher education for AnnArbor.com. Reach her at kelliewoodhouse@annarbor.com or 734-623-4602 and follow her on twitter.