Posted on
Thu, Feb 9, 2012 : 11 a.m.
Rick Snyder wants 3% funding boost for public universities
By Kellie Woodhouse
Last update: 12:22 p.m.
After double-digit funding decreases last year, Michigan's 15 public universities may get the increase in state backing they've been calling for, although not in a form they'd prefer.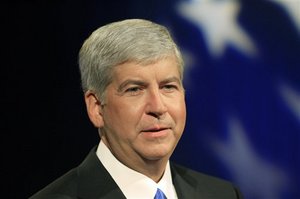 Gov.
Rick Snyder
is seeking a 3 percent, or $36.2 million, increase in state university funding this year, bringing the higher ed pot to $1.4 billion. Snyder revealed his 2012-13 budget proposal Thursday morning in Lansing.
"We can't forget community colleges and higher ed," Synder said. "We do need to get more people with college educations."
The 3 percent increase is tied to a formula that state legislators have been working to establish for months, using input from universities who have offered assistance but expressed concern about formula funding.
The formula will be based on four metrics: The growth in the number of undergraduate degree completions, the number of undergraduate completions in critical skill areas, the number of undergraduate Pell Grant recipients and compliance with tuition restraint.
If state universities increase tuition more than 4 percent, their funding will be affected, said Lt. Gov. Brian Calley. The 4 percent benchmark is significantly lower than the current metric of 7 percent.
"If we're going to be increasing state support, we're going to ask that tuition restraint be lowered from that previous benchmark," Calley said.
In 2011-2012 just two universities, Central Michigan University and Eastern Michigan University, kept tuition increases below 4 percent.
This year, university funding dropped 15 percent. Schools were threatened with further cuts if tuition rose 7.1 percent or more.
University of Michigan this year absorbed a $47.5 million cut. After President Barack Obama's recent Ann Arbor speech on the soaring cost of higher education, U-M President Mary Sue Coleman urged the state to "reinvest" in public universities.
"Every year: Cut, cut, cut, cut," she said. "The state is coming back, it's coming back pretty dramatically and it's going to have to make choices."
Coleman also knocked Snyder's move toward formula funding.
"It can't be just a simple formula. It's more complicated than that," she said.
As a part of the uptick in funding, Snyder wants to advance 18 capital outlay projects, usually expensive construction undertakings that are supported jointly by the state and the university seeking improvement. On average, no more than two to three outlay projects are advanced each year.
In Snyder's budget community colleges also see a 3 percent funding increase. The $8.5 million bump will be tied to a formula that is largely based on the number of degrees and certificates offered in critical skill areas.
Kellie Woodhouse covers higher education for AnnArbor.com. Reach her at kelliewoodhouse@annarbor.com or 734-623-4602 and follow her on twitter.