Posted on
Mon, Dec 20, 2010 : 2:11 p.m.
Some University of Michigan executives experience double-digit pay raises following last year's freeze
By Juliana Keeping
The pay freeze taken last year by most of the University of Michigan's highest paid top executives was short-lived.
Timothy Slottow, chief financial officer, got a nearly 13.5 percent boost after freezing his pay last academic year — from $472,106 to $535,600.
The director and CEO of the U-M Hospitals and Health Centers, Douglas Strong, took a pay freeze in 2009-2010, but has since received a 10-percent pay hike — from $546,364 to $600,000.
U-M released its annual salary list today; data on the list reflects 2010-2011 salaries.
While University of Michigan President Mary Sue Coleman took the lead to take a freeze to her base pay in 2009-2010, the freeze ended this year for her, too.
But her increase was more modest compared to some highly-paid peers.
Coleman made a base pay of $553,000 in 2009-2010 and makes $570,105 this academic year, a 3 percent hike.
Not every executive got a raise this year.
In 2009-2010, U-M's chief investment officer, L. Erik Lundberg, got the biggest increase with an 18 percent salary hike to $578,800. That made him the second largest earner at U-M with a base salary that topped Coleman's.
But this year, Lundberg took a cut to base pay to $575,000. Lundberg's earnings are tied to investment performance, rather than the university's merit program.
Ora Hirsch Pescovitz, the University of Michigan Health System's CEO and executive vice president for medical affairs, again makes the top university base pay at $721,000 per year, an increase of 3 percent over her base pay in 2009-2010. Pescovitz, who took the top spot at UMHS in May 2009, did not participate in the freeze.
RELATED CONTENT
While a release noted U-M faculty and staff saw modest average salary increases, absent from the announcement was data pertaining to any specific union at U-M.
Salary increases for unionized employees are tied to collective bargaining agreements with the school. More detailed information was not immediately available early Monday, U-M's Kim Broekhuizen said. Broekhuizen requested the information regarding union pay increases from human resources following a request from AnnArbor.com.
Labor relations and human resources documents just over a quarter of roughly 40,000 U-M employees are in one of 10 unions, Broekhuizen said Monday.
Not immediately available were the range of salaries following any increase in each union and the range of percentage increases pertaining to each union.
Highlights of the release include:
The average faculty member saw a boost in pay of 2.6 percent.
Salary increases for campus staff averaged 2.3 percent; campus staff are not unionized.
At the hospitals and health centers, salaries increased an average of 3.3 percent in 2010-2011. In 2009-2010, most staff received a lump sum amount but not an increase to their base salary.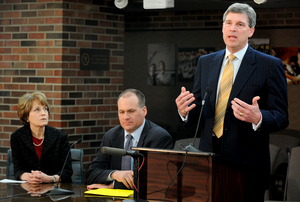 File photo: Angela J. Cesere | AnnArbor.com
The annual list of "highest paid employees" also does not include the salaries of coaches in the athletic department because that is self-funded and keeps a separate budget, Broekhuizen said.
Last year, more than 70 percent of costs at U-M were tied to human resources.
Meanwhile, here's a look at the highest paid employees at U-M (excluding department of athletics salaries). The salary report and below information lists base salaries, but does not include other perks awarded to U-M's top executives, like retirement contributions from the school.
Ora H. Pescovitz, Executive Vice President for Medical Affairs and Professor of Pediatrics and Communicable Diseases, Medical School: $721,000.
Douglas L. Strong, Director and Chief Executive Officer, University of Michigan Hospitals and Health Centers, and Adjunct Associate Professor of Health Management, School of Public, Health: $600,000.
David A. Brandon, Donald R. Shepherd Director of Intercollegiate Athletics: $577,360
L. Erik Lundberg, Chief Investment Officer, Investment Office, Office of the Executive Vice President and Chief Financial Officer: $575,000.
Mary Sue Coleman: President of the University, Professor of Biological Chemistry, Medical School and Professor of Chemistry, College of Literature, Science and the Arts: $570,105.
Timothy P. Slottow, Executive Vice President and Chief Financial Officer: $535,600.
James O. Woolliscroft: Dean, Lyle C. Roll Professor of Medicine, Professor of Internal Medicine and Professor of Medical Education, Medical School: $509,232.
Philip J. Hanlon, Provost and Executive Vice President for Academic Affairs, Arthur F. Thurnau Professor, Donald J. Lewis Collegiate Professor of Mathematics, and Professor of Mathematics, College of Literature, Science, and the Arts: $470,000.
Robert J. Dolan, Edward J. Frey Dean, Stephen M. Ross Professor of Business, Professor of Marketing, Stephen M. Ross School of Business, and Special Counselor to the Provost on Strategy, Office of the Provost and Executive Vice President for Academic Affairs: $448,155.
Evan H. Caminker, Dean, Branch Rickey Collegiate Professor of Law, and Professor of Law, Law School, $442,308.
Juliana Keeping is a health and environment reporter for AnnArbor.com. Reach her at julianakeeping@annarbor.com or 734-623-2528. Follow Juliana Keeping on Twitter