Posted on
Mon, Apr 2, 2012 : 5:09 p.m.
Something to chew on: HomeGrown Local Food Summit looks to the future
By Janet Miller
Washtenaw County's local food movement is about more than just getting a locally grown tomato onto the dinner plate of local eaters.
It's about encouraging food processors such as Ann Arbor's The Brinery, which makes kimchi, pickles and sauerkraut, to buy local produce, process it and then sell it locally, adding value along the way, said Jason Frenzel.
Frenzel is co-chair of the planning committee for the fourth annual HomeGrown Local Food Summit, held Monday on the campus of Washtenaw Community College. The event attracted 300 farmers, businesses and non-profits linked to food issues.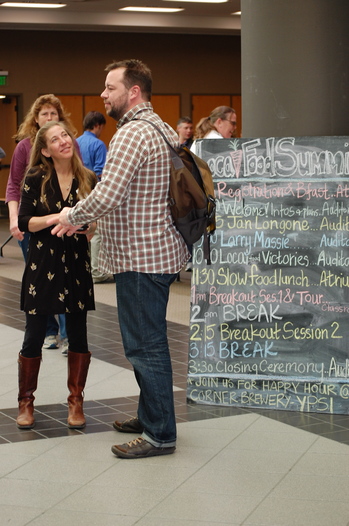 Photo for AnnArbor.com | Janet Miller
Slow Food Huron Valley
organized the summit, assisted by a host of volunteers. "The local food movement isn't only about farmers at the farmer's market or food coops," Frenzel said. "It's about diversifying and increasing the number of people involved. It's about the breadth becoming bigger."
Take, for example, Nifty Hoops, a new Ann Arbor hoop house maker that has responded to the local food movement's desire to expand the growing season, Frenzel said.
The local food movement is about getting locally grown food into institutions, from schools to hospitals, and into the hands of people who don't traditionally have access to fresh fruits and vegetables. And it's about creating the next generation of farmers, Frenzel said. While the younger generations in long-time agricultural families may be moving off the farm, there's a wave of young people who don't have farming roots anxious to farm. "We need to find a way to watch these (two groups) up, either through grants or some kind of mortgages," Frenzel said.
These issues and more were addressed Monday at the all-day summit.
Amanda Gallaher, a summit volunteer, gave a presentation about the latest victories in the local food movement, from getting local food into school cafeterias to Food Gatherers, which stocks local community pantries and kitchens, increasing the amount of fruit and produce it distributes by 50 percent.
She gave a nod to a number of local businesses connected to the local food movement, from Mindo Chocolate Makers to the Local Honey Project through the Ypsilanti Food Coop to Sweet Heather Anne, cakemakers who use local ingredients and who are moving to a new location on North Main Street.
And Gallaher applauded the growing diversity of the Community Supported Agriculture concept. Under a CSA, farmers sell members shares of their harvest to community members. The number of traditional CSAs, where customers receive weekly allotments of produce, has grown. Meanwhile, other kinds of CSAs are emerging, such as Stone Soup Grain and Root, which sells shares of crops such as wheat and rye berries, oat groats and popcorn.
While the summit focused on the year's successes, it also had an eye on the future of the local food movement. Similar to the speed dating routine and with the hopes of winning $500 mini-grants, about 20 participants stood on the stage and delivered one-minute pitches about future endeavors: Salomon Jost wants to create an investment club to fund organic farms; Lindsey MacDonald is looking for help establishing a University of Michigan student farm; Victoria Bennett wants input on a new WCC farm degree program; and Eric Kampe is starting the Ann Arbor Seed Co.
The audience was invited to huddle with the participants before lunch to expand on their ideas and exchange contact information. And perhaps plant the seed for the next local food dream.