Posted on
Wed, Jan 27, 2010 : 4:04 p.m.
State court rules that government officials' personal e-mails aren't subject to FOIA
By Ryan J. Stanton
A sweeping decision released by the Michigan Court of Appeals today places new limits on the state's Freedom of Information Act, concluding that personal e-mails exchanged between government officials are not subject to disclosure.
The ruling stems from a case out of Livingston County Circuit Court involving the Howell Education Association, the Howell Board of Education and Howell Public Schools. Click here to read the full opinion.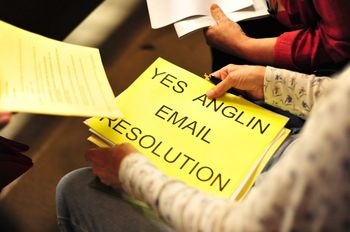 The state appeals court ruled this week that e-mails exchanged between teachers union officials on a school district's computer system are not subject to FOIA. The three-judge panel reversed a lower court ruling from 2007 that found e-mails stored on the school system's server were public records.
According to the new ruling, only records created to further a public institution's official duties are subject to FOIA and that "personal communication," even if related to school issues such as union contract negotiations, are exempt.
"This is a difficult question requiring that we apply a statute, whose purpose is to render government transparent, to a technology that did not exist in reality (or even in many people's imaginations) at the time the statute was enacted and which has the capacity to make 'transparent' far more than the drafters of the statute could have dreamed," the judges opined. "When the statute was adopted, personal notes between employees were simply thrown away or taken home and only writings related to the entity's public function were retained. Thus, we conclude that the statute was not intended to render all personal e-mails public records simply because they are captured by the computer system's storage mechanism as a matter of technological convenience."
The judges went on to acknowledge the growth of electronic technology has "greatly increased tension between the value of governmental transparency and that of personal privacy."
"As we stated out the outset, the ultimate decision on this important issue must be made by the Legislature and we invite it to consider the question," the judges wrote. "However, based on the statute adopted in 1977, the technology that existed at that time and the caselaw available to us, we conclude that the trial court erred in its conclusion that all e-mails captured in a government e-mail computer storage system, regardless of their purpose, are rendered public records subject to FOIA."
Leigh Greden, a local attorney who was ousted from his seat on the Ann Arbor City Council last year in the wake of controversy over e-mails he sent during council meetings, said the new court opinion means some of the e-mails he sent should never have been released under FOIA.
Joan Lowenstein, another local attorney who served on the City Council with Greden, agreed.
"I have litigated a number of FOIA cases on behalf of media clients. I don't think the FOIA was ever meant to cover personal communications," Lowenstein wrote in an e-mail to AnnArbor.com today. "It was meant as a way for citizens to gain access to documents compiled by the government. I've read the opinion and it seems well thought-out. The court said the legislature should act, and I think the legislature should look at other states, such as Colorado, which specifically exclude personal e-mails from their FOIAs."
Ryan J. Stanton covers government for AnnArbor.com. Reach him at ryanstanton@annarbor.com or 734-623-2529.