Posted on
Mon, Jul 12, 2010 : 5 p.m.
Gov. Jennifer Granholm signs bill into law allowing residents to make foods at home, sell it
By Tom Perkins
At the Growing Hope urban farm in Ypsilanti on Monday afternoon, Ann Arbor resident Jeff McCabe handed Gov. Jennifer Granholm and state State Rep. Pam Byrnes his last two "illegal" loaves of bread.
Granholm laughed and thanked McCabe for the "contraband."
Under two new bills Granholm had just signed into law during a ceremony at Growing Hope, residents like McCabe are now allowed to make and package certain foods in their home kitchen and sell or distribute them to the public.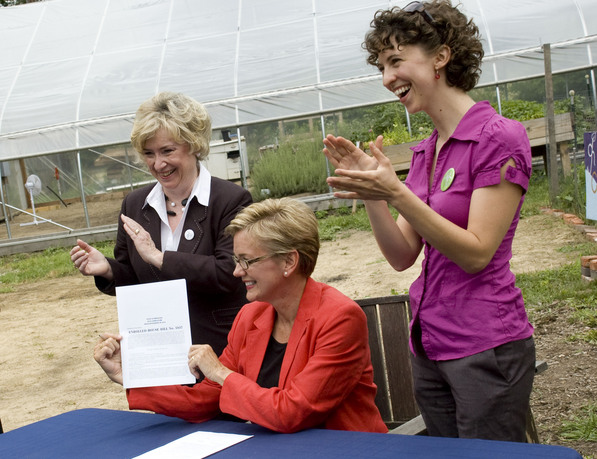 Tom Perkins | For AnnArbor.com
Previously, residents were required to make their foods in a Michigan Department of Agriculture-certified commercial kitchen - which can be expensive and hard to find - and pay a licensing fee. Granholm said the intent of the new law is to free Michigan's cottage food industry from unnecessary regulation.
"This is a great way of eluding some bureaucracy and fostering some great, great entrepreneurs in the agricultural field," Granholm said of the bills, one of which were introduced by Byrnes, D-Lyndon Township.
The law covers businesses that gross less than $15,000 annually. Among the foods included are those classified as "non-potentially hazardous foods," meaning they aren't temperature controlled for safety. The list includes certain baked goods, pies, cereal, candy, dry mixes, popcorn, coffee and other items.
McCabe has long served his breads at a neighborhood breakfast called Friday Mornings @SELMA, which he estimates attracts around 120 people weekly in Ann Arbor's Old West Side neighborhood. The new law makes it legal for McCabe to serve his breads, which had previously been of concern to local officials.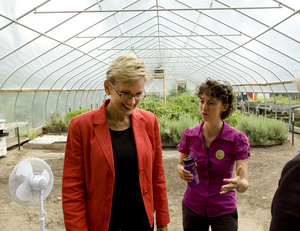 McCabe said with the new law, he and a few others are considering sharing a table at a farmers market. People can sell foods at roadside stands, flea markets or fairs. But food to be sold in grocery stores must be made in a certified commercial kitchen and have the proper MDA licensing.
The foods' labels must make clear that the food was prepared in a home kitchen, not an MDA-certified commercial kitchen. The label must also list the ingredients in descending order by weight, allergen information, net weight and display the company's name and address.
Once a business is making more than $15,000, it will be required to operate out of a commercial kitchen and seek proper licensing.
The bills passed the House and Senate unanimously, while a third covering syrups passed the Michigan House and is in the Senate.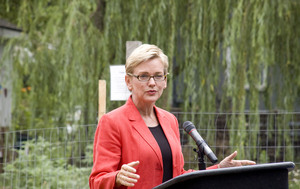 Tom Perkins | For AnnArbor.com
"This is a bipartisan bill, and I think everyone would agree, Democrats or Republicans, that unnecessary regulation, or regulation that prevents people from becoming entrepreneurs or doing their business, needs to be repealed," Granholm said.
Ryan Stedman, the manager of Ypsilanti's Farmers' Market, said she is regularly approached by people wanting to sell foods at the market. She said her first question is "Do you have a certified kitchen?" to which the usual reply was "no."
"I had to turn those people away, unfortunately," she said. "They had to be licensed and that takes time and money and knowing what the laws are, and that can be daunting. This removes barriers for lots of people looking to join the local food movement and supplement their income."
The market currently has 40 registered vendors, and Stedman expects to see another five join with the passage of the new law.
Tom Perkins is a freelance writer for AnnArbor.com. Reach the news desk at news@annarbor.com or 734-623-2530.