Posted on
Tue, Dec 20, 2011 : 5:59 a.m.
Pedestrian safety law: New strobe lights and crosswalk rules approved in Ann Arbor
By Ryan J. Stanton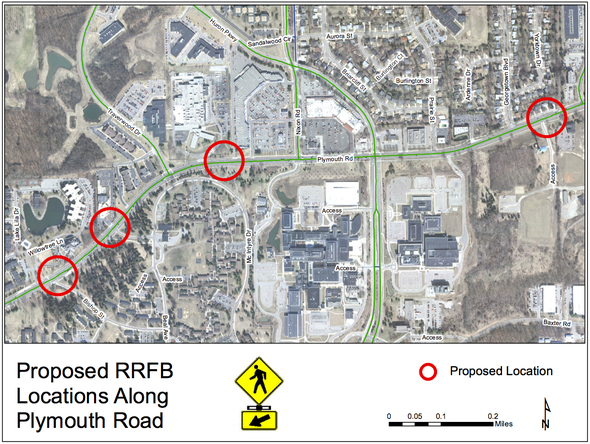 Those flashing strobe lights you're going to see at some crosswalks in
Ann Arbor
soon mean one thing: Stop for pedestrians.
The Ann Arbor City Council voted 10-0 Monday night to approve spending $81,000 for the installation of Rectangular Rapid Flashing Beacons — or RRFBs — at five locations.
That includes four crosswalks along Plymouth Road that were the subject of discussions last week, as well as a fifth location on Seventh Street just south of Washington Street where the city installed a pedestrian refuge island about two years ago.
The strobing RRFBs, complementing existing crosswalk signs, are designed to grab attention and get motorists to stop safely for pedestrians.
And, officials hope, they'll help put an end to a recent string of rear-end accidents that have happened — largely along Plymouth Road — as a result of motorists not stopping in time after vehicles in front of them hit the brakes for pedestrians at crosswalks.
Here's a video showing how the RRFBs work:
The council also voted 10-0 Monday night with Marcia Higgins absent to approve changes to the city's pedestrian safety ordinance.
Much controversy has surrounded the ordinance, which requires motorists to stop not only for pedestrians within crosswalks, but also those approaching. There have been numerous rear-end accidents at crosswalks since enforcement of the ordinance began in September.
The changes approved Monday night are an attempt to offer clarity and take the guess work out of figuring out whether a pedestrian might be considered "approaching."
The revised ordinance now states that when traffic control signals aren't in place, drivers must stop for pedestrians "stopped at the curb, curb line or ramp leading to a crosswalk."
Drivers also must stop for every pedestrian within a crosswalk when the pedestrian is on the half of the roadway on which the vehicle is traveling, or when the pedestrian is approaching so closely from the opposite half of the roadway as to be in danger.
That last distinction brings the city's ordinance closer in line with the state's Uniform Traffic Code.
But Ann Arbor's ordinance still goes one step further than the UTC by requiring drivers to stop for pedestrians waiting at the curb.
"I have faith that the changes we've proposed tonight will help clarify how this ordinance is supposed to work for us all and that people will adapt," said Council Member Sabra Briere, D-1st Ward, who believes Ann Arbor drivers are becoming more aware of pedestrians.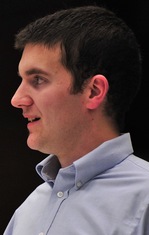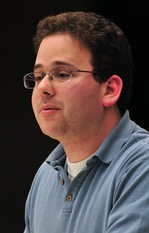 Multiple residents spoke out on the issue and suggested the council was making a mistake to continue having an ordinance that differs from what goes on elsewhere in the state.
"I don't feel more safe as a result of the ordinance," said Tim Hull, a 2nd Ward resident who ran for council earlier this year.
Hull said Ann Arbor's crosswalk law could be perceived as a "revenue-generation scheme designed to milk out-of-towners." He urged the council to instead lobby state lawmakers to introduce a statewide pedestrian safety law.
Michael Benson, a University of Michigan graduate student and president of Rackham Student Government, agreed with Hull that the incongruity between Ann Arbor's crosswalk ordinance and what's allowed in other places in the state is problematic.
Eli Cooper, the city's transportation program manger, recommended the revised pedestrian safety ordinance language to council.
"Somewhere between 15 and 20 percent of our population walks to work every day," he said. "Drivers should be in a position to understand that they have a right to the road, but they have a responsibility to share it properly. And what we're doing here is providing that balancing legal framework that should otherwise occur by plain common sense."
Briere noted that RRFBs don't fit the definition of "traffic control signals," so the pedestrian safety ordinance — which only applies where traffic control signals aren't in place — still will be the law at the crosswalks getting the RRFBs.
The four crosswalks expected to get RRFBs along Plymouth Road are located near Beal Avenue, Bishop Avenue, Traver Village and Georgetown Boulevard. City officials said installation could start in February and be finished by the end of March.
Funding is coming from the city's major streets fund balance, which city officials said had an estimated $7.44 million as of June 30.
Per the city's fund balance and debt policies, the major streets fund should be maintaining one year's collection of weight and gas tax revenues, or about $5.4 million.
Annual operations and maintenance costs for the RRFBs are estimated to be $160 per crossing.
Craig Hupy, interim public services administrator, said some of them might be solar-powered and some might be hard-wired as the city experiments with different options.
It's reported that the RRFBs achieve average yield compliance rates ranging from 77 to 85 percent, city officials said.
RRFBs consists of two rectangular stutter flash beacons below pedestrian warning signs. They're activated by pedestrians with the push of a button.
City officials said the beacons are similar to the lights on top of emergency vehicles, but they're much less likely to trigger an epileptic episode or migraine.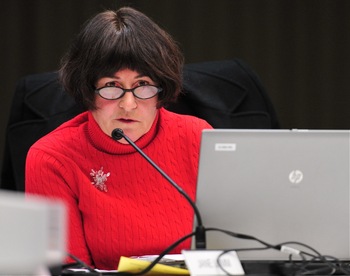 Ryan J. Stanton | AnnArbor.com
Council Member
Jane Lumm
, an Independent who represents the 2nd Ward, was alone Monday night in pushing to scale back the number of RRFBs proposed on Plymouth Road.
She said she didn't think they were needed at Traver Village and Georgetown Boulevard, given low pedestrian volumes there and the close proximity to other crossings.
Homayoon Pirooz, head of the city's project management unit, disagreed with Lumm and said he doesn't think having RRFBs at four locations along Plymouth Road is excessive. In fact, he said, he'd probably recommend putting them in more places.
Pirooz said he actually measured some of the distances between crossings on Plymouth Road and it's about 600 feet or one block from the Traver Village crosswalk to Traverwood Drive. It's also about 700 feet or one block from Traver Village to Nixon Road.
"This is exactly the right spot where you want to have a pedestrian crossing point," he said. "So that's why we picked these locations when we picked them eight years ago."
Deciding whether certain crosswalks get RRFBs shouldn't be driven by the number of pedestrians crossing, Pirooz added. Rather, he said, it should be based on the speed of the vehicles and how many lanes of traffic pedestrians must cross.
"Hopefully in the future we will have something like a rapid flashing beacon in most of the places where pedestrians have to cross four or five lanes of traffic," Pirooz said.
Pirooz also stressed that the RRFBs will be particularly useful when it's dark or raining and drivers otherwise might have a hard time spotting pedestrians.
Lumm also fought unsuccessfully Monday night to amend the pedestrian safety ordinance so drivers only would have to stop for pedestrians already within crosswalks — not those waiting at the curb line. She couldn't get another council member to support her motion.
Lumm argued the city's signs at crosswalks are inconsistent with the city's own ordinance as they only instruct drivers to stop for pedestrians "within" crosswalks.
Cooper said there's only so much fine print a motorist can be expected to read when traveling down a road and the signs convey the basic message.
City Attorney Stephen Postema said even though the signs use different language, the city still will enforce the ordinance and leave the outcome of any case up to a judge.
The fine for violating the pedestrian safety ordinance in Ann Arbor is $100 plus $30 in court costs. Contrary to information put out by supporters of the ordinance previously, there are no points added to a driver's license for violations of the ordinance.
In making the case for the RRFBs, city officials noted Plymouth Road is five lanes between Murfin Avenue and Huron Parkway. The posted speed limit ranges from 35 mph to 45 mph, with a daily traffic volume of about 22,000 vehicles.
Nearby developments include the University of Michigan's North Campus housing and offices, apartments, shopping malls, businesses and religious facilities.
Seventh Street at Washington — near Slauson Middle School — has a posted speed limit of 30 mph and a daily traffic volume of close to 10,000 vehicles.
Ryan J. Stanton covers government and politics for AnnArbor.com. Reach him at ryanstanton@annarbor.com or 734-623-2529. You also can follow him on Twitter or subscribe to AnnArbor.com's email newsletters.