Posted on
Fri, Nov 11, 2011 : 1 p.m.
Sue McCormick's departure for job in Detroit leaves Ann Arbor key administrative opening
By Ryan J. Stanton
Sue McCormick, Ann Arbor's public services administrator, has been chosen by Detroit Mayor Dave Bing for a new job as director of the Detroit Water and Sewerage Department.
McCormick was introduced to the Detroit Board of Water Commissioners earlier this week, according to published reports. The board must vote to approve her selection at its next meeting on Nov. 16. If approved, McCormick would start Jan. 1.
Ann Arbor Mayor John Hieftje confirmed on Friday that McCormick, one of the city's top administrators, is leaving for the new job.
"I think for the Detroit community and the surrounding communities that use Detroit's water system, this is going to be very good for them," he said. "Sue McCormick always did excellent work at the city of Ann Arbor and I'm sure she will continue that in her new position."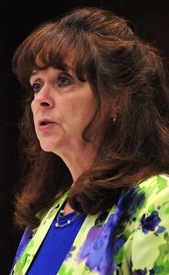 McCormick could not be reached for comment.
McCormick's departure comes just seven months after City Administrator Roger Fraser left Ann Arbor to take a new job as deputy state treasurer in Lansing. Fraser was replaced recently with Steve Powers, who left his position as Marquette County administrator to come to Ann Arbor.
Hieftje said conversations about how to replace McCormick are just starting, but he's confident the city will be able to manage the transition.
McCormick is the third-highest-paid city official at $135,600 a year, just behind the city administrator and city attorney. Hieftje said McCormick is one of five service area leaders or so-called "bubble heads" in the city's administration.
She oversees the entire water and sewer utilities system, which has included overseeing the complete rebuild of half the city's wastewater treatment plant — an ongoing effort that is considered by city officials to be the largest capital project in the city's history.
She also oversees the city's entire physical infrastructure, including roads and maintenance of city facilities and parks. She also oversees the public art program.
"Sue handled a lot for the city and I think the discussion will revolve around whether that's a job one person can handle or should it be split up," Hieftje said, noting back in the 1990s about five people would have done the work McCormick handled.
A native of Michigan's Upper Peninsula and a graduate of Michigan State University, McCormick joined the city of Ann Arbor as water utilities director in January of 2001.
Before that, she spent 22 years with the Lansing Board of Water and Light, serving as environmental chemist, environmental laboratory manager, manager of water and steam planning, water technical support manager and business development manager.
McCormick also is an active member of the American Water Works Association, an international organization representing more than 58,000 drinking water professionals. She and her husband have three sons and one daughter-in-law who all reside in the Lansing area.
"Sue certainly was a reservoir of institutional knowledge and one of the best people I've ever worked with, but I think there are very good people under her, so it'll be fairly seamless," Hieftje said of the transition. "I think everything is left in good hands."
In addition to McCormick's departure, the city is bracing for the potential retirement of a large number of city employees, including several police officers.
Newly negotiated employee contracts take effect Jan. 1, and retirement benefits for those who retire after that point will be less than if they retire by the end of the year.
Hieftje said employees are required to give 30 days notice of their intent to retire, so the city will have a better idea after Dec. 1 of how many employees it expects to lose. He predicted there could be as many as a dozen police officers retiring, and he said the city already is sifting through a pool of 350 applications for police officer positions to replace them.
"There's just a huge pool of experienced, high-quality officers out there looking for work and we should be able to take advantage of that," Hieftje said.
Ryan J. Stanton covers government and politics for AnnArbor.com. Reach him at ryanstanton@annarbor.com or 734-623-2529. You also can follow him on Twitter or subscribe to AnnArbor.com's e-mail newsletters.