Posted on
Mon, Dec 5, 2011 : 11:36 a.m.
Bank robbery suspect arrested after fleeing on AATA bus
By Kyle Feldscher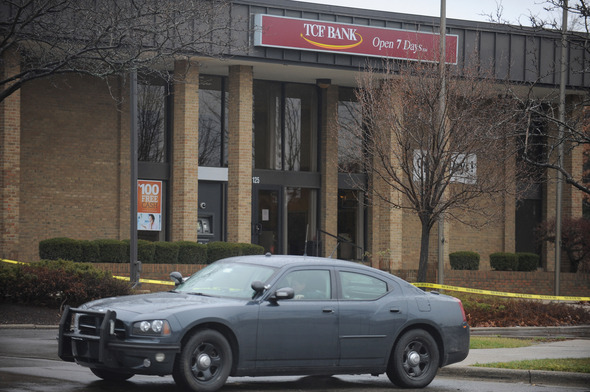 Angela Cesere | AnnArbor.com
A man suspected of robbing a TCF Bank near Briarwood Mall in Ann Arbor this morning was arrested in Ypsilanti after fleeing on an
Ann Arbor Transportation Authority
bus, authorities said.
A man walked into the TCF Bank at 125 Briarwood Circle about 10 this morning and demanded money, Ann Arbor police Sgt. Pat Hughes said. A teller gave him an undisclosed amount of money, and he left the bank on foot, Hughes said. Reports indicated the man got on an AATA bus headed for Ypsilanti, Hughes said.
The suspect, a 30-year-old man from Ypsilanti, got off the bus in the area of Hawkins and Franklin Streets and was arrested by Ypsilanti Police Department officers, Hughes said. The money the man had taken from the bank was recovered at the scene, Hughes said.
Hughes said it is Ann Arbor police policy to not release the amount of money stolen in bank robberies.
It is not believed that the man had a weapon on him during the robbery, Hughes said.
Police were dispatched to the bank just after 10:05 a.m., Hughes said. Investigators were still at the bank as of 12:45 p.m. Monday, he said.
The name of the arrested man will not be released until he is arraigned at the Washtenaw County Jail.
Ann Arbor police Lt. Renee Bush, the department's spokesperson, said there was no weapon seen or implied by the suspect when he approached the teller.
Det. Sgt. Troy Fulton, of the Ypsilanti Police Department, said the man ran away from police for a few minutes before he was apprehended on Hawkins Street between Hill Street and Franklin Street. Undercover officers located the man and told him to get on the ground, which the man did without incident.
Fulton said he didn't want to comment further on the incident because he did not want to cause any problems with the Ann Arbor police's investigation.
Kyle Feldscher covers cops and courts for AnnArbor.com. He can be reached at kylefeldscher@annarbor.com or you can follow him on Twitter.