Posted on
Sun, Feb 12, 2012 : 5:58 a.m.
Team of six Ann Arbor swimmers prepares to swim the English Channel for ALS fundraiser
By Janet Miller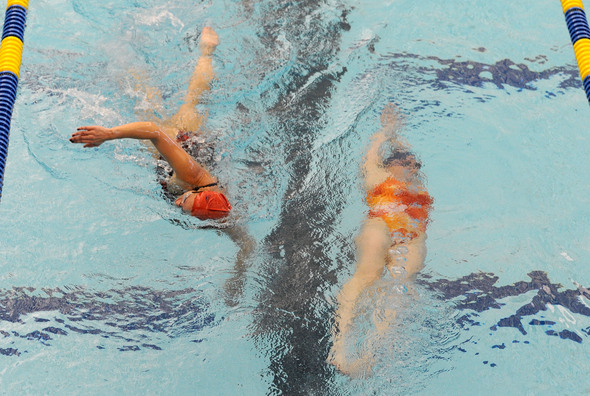 Angela J. Cesere | AnnArbor.com
Mountain climbers may have Mount Everest, but six swimmers based in
Ann Arbor
have a different kind of summit: the English Channel.
The six women, ages to 32 to 44, will attempt to swim a double crossing of the English Channel this summer, all the while raising funds and bringing attention to ALS (Lou Gehrig's disease), hoping to break a world record and meet a personal challenge that for many competitive swimmers remains a fantasy.
"It's the Mount Everest of swimming," said Amanda Mercer, who organized the Channel relay swim with the goal of raising $120,000 for ALS research.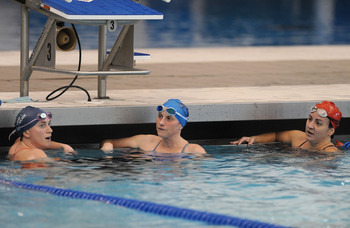 Angela J. Cesere | AnnArbor.com
While most of the six women, who swam competitively in college, harbored dreams of swimming the Channel, it wasn't until Mercer went looking for a way to raise funds and awareness for ALS (amyotrophic lateral sclerosis) that she hit upon the idea of a relay swim across the Channel. ALS is a rapidly progressing and fatal disease that robs patients of muscle strength and movement.
Mercer sits on the board of Ann Arbor Active Against ALS, a private, nonprofit grassroots organization dedicated to raising funds for the treatment and research of the disease.
A2A3 was founded after Mercer's neighbor Bob Schoeni, a University of Michigan professor, was diagnosed with ALS in 2008. A couple of months later, friends and neighbors founded A2A3 in an effort to support ALS research. They have raised more than $100,000, said Suzanne Ross, president of A2A3.
The women - three are mothers, some work full time, others coach - have had to squeeze in practice and conditioning. They swim five to 10 hours a week and condition when they aren't in the pool. Preparations will pick up soon as the date nears. They'll also travel to Lake Michigan in the spring to acclimate to cold water.
Wet suits, according to the Channel Swimming and Piloting Federation rules, are forbidden. Worried about the cold, team member Jenny Jalet needed to test the waters - literally - before she made the commitment. When she was visiting Maine last summer, she took a 20-minute swim in the Atlantic Ocean. On a shuttle to the beach, her young son told the bus driver his mother was going to swim the English Channel.
Angela J. Cesere | AnnArbor.com
"I felt committed at that point," she said, "because the Acadia Park bus driver thinks I'm going to do it." And her test swim? "It wasn't as bad as I thought," she said.
Each swimmer will take one-hour shifts in the water, and must remain in order as the relay progresses. When they're not in the water, they will be on a 35-foot boat with a pilot. Team member Bethany Williston's biggest worry isn't the conditioning or the crossing. It's seasickness. She plans to wear a patch to prevent seasickness.
Each team member is footing their own travel and lodging bill, borrowing frequent flyer miles where they can. All of the fundraising will go to ALS research.
They will travel to England a few days before and be ready to swim anytime between July 25-31 when there is a neap tide, when the tide's range is at its lowest. Weather is always unpredictable, the water is cold (60 degrees) even in late July and there are currents.
They will swim the Strait of Dover, at 21 miles the narrowest distance across the Channel. Because it's a two-way crossing, and because tides don't allow for a straight crossing, the swimming distance will be more than 42 miles. They hope to break the women's two-way relay record of 18 hours, 59 minutes.
The team is about to launch a national campaign announcing the relay next week. They are hoping to catch the eye of a national celebrity such as Ellen DeGeneres or Oprah Winfrey, and have already received notice from actress and television host Kelly Ripa and football stars Dhani Jones and Desmond Howard, who have all retweeted the event. "Kelly Ripa alone has 350,000 followers," Mercer said.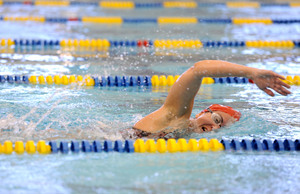 Angela J. Cesere | AnnArbor.com
They have other fundraising tools: Area high school teams have been fundraising, anyone can participate in a virtual swim where they collect pledges and log 21 miles in a local pool or lake (or 73.5 miles if they want to walk or run instead) and a Michigan software company developed a game app,
Kento ALS
, for iPhone and iPad. They are also looking for a corporate sponsor, Mercer said. "We're willing to put their log on our suits or wear temporary tattoos of a company name."
The team
Jenny Jalet, 40, swam at U-M and works in development at the U-M athletic department. Susan Butcher, 33, swam for Eastern Michigan University and is a contracted athletic trainer at Canton High School. Amanda Mercer, 43, swam for Michigan State University and is an attorney. Bethany Williston, 40, swam for Yale University and is a swim coach. Melissa Karjala, 32, played water polo for U-M and is a research administrator at U-M. And Emily Kreger, 34, swam at Yale and is a medical resident in Detroit. She is the only one who does not live in Ann Arbor.
For more information on the crossing or on A2A3, go to http://www.channelforals.org/ or http://www.a2a3.org/.