Posted on
Sat, Nov 27, 2010 : 11:50 a.m.
Ten University of Michigan students to travel to United Nations Climate Change Conference
By Juliana Keeping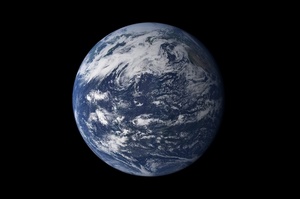 Photo courtesy of Flickr user NASA Goddard Photo and Video; NASA image by Robert Simmon and Marit Jentoft-Nilsen
A group of University of Michigan students passionate about addressing climate change will make their way to Cancun, Mexico, for the United Nations Climate Change Conference.
The 10 students are among 30 faculty members and U-M friends traveling Monday to the two-week conference climate negotiators hope will help countries move forward with emission reductions promised in the accord signed at the 2009 Copenhagen climate change conference.
According to the Associated Press, countries that pledged emissions cuts in a nonbinding climate accord last year are not meeting that promise. The pledges made in Copenhagen in December 2009 were meant to stave off effects of global warning.
Representatives from 194 countries are expected to meet in Cancun to broker a deal to reduce greenhouse gases.
Michelle Hung Wai Lee, a first-year student from the U-M School of Natural Resources, said she'd like to do more than observe.
"We hope to participate actively while in Cancun, as well as share our experiences with our community upon return," she told the U-M News Service.
Juliana Keeping is a health and environment reporter for AnnArbor.com. Reach her at julianakeeping@annarbor.com or 734-623-2528. Follow Juliana Keeping on Twitter