Posted on
Mon, Apr 22, 2013 : 5:59 a.m.
Video: 1987 show-stopping move of 2 historic downtown Ann Arbor houses preserved for all time
By Janet Miller
One of Ann Arbor's best-remembered events from recent history has been preserved for the ages.
Crowds of people lined Main Street, Stadium Boulevard and Washtenaw Avenue on a Sunday in June 1987 to witness the impossible: The relocation of two behemoth late 19th century Queen Anne houses from downtown Ann Arbor nearly five miles east. It became a public spectacle as the two Victorian beauties with turrets and gingerbread trim inched like mammoth turtles down cordoned off streets.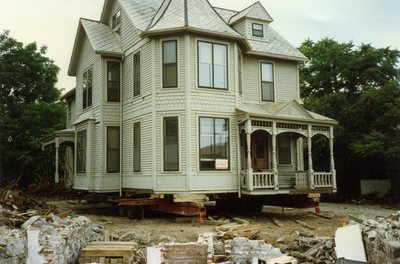 Courtesy of Dr. Lev Linkner via Priceless Photo Preservation
Now, a VHS home video of the move has been digitized and made public, creating a six-minute trip down memory lane: The two houses fill the roads as crowds gather to snap pictures. There's a humbler University of Michigan football stadium surrounded by a frayed chain link fence, gas signs that read 93-cents a gallon and the now-shuttered neighborhood gathering spot, the Food and Drug Mart.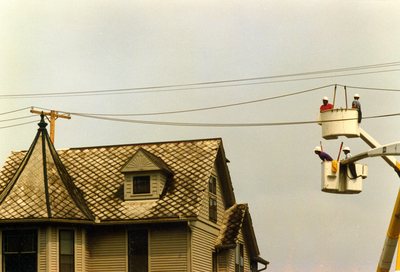 Courtesy of Dr. Lev Linkner via Priceless Photo Preservation
And there is a dramatic shot of the houses moving across the Stadium bridge, taken from below, with the cameraman stationed on State Street.
"It gets me every time, watching these two mammoth houses going over the Stadium Bridge knowing now that the bridge was not safe," said Rob Hoffman, co-owner of Priceless Photo Preservation, which archives, organizes and digitizes photos, slides and home movies. Priceless Photo recently moved to its first brick-and-mortar location inside the Goodyear Building at 122 S. Main.
When Dr. Edward "Lev" Linkner decided to rescue two historic downtown Ann Arbor houses and move them east of town, people thought he was crazy. While the two Queen Annes that sat on South Main Street for more than a century were free - they were going to be razed to make way for development - the work and cost it took to move them five miles was tremendous.
That didn't stop the Ann Arbor physician.
He hired an architect, secured countless permits, paid to have power lines moved and trees trimmed, hired police for crowd control, purchased $1 million liability insurance from Lloyd's of London, bought a parcel of land on Huron Parkway. On one sunny-turned stormy Sunday, Linkner watched from the seat of his bicycle as the houses moved down Main Street, east onto East Stadium Boulevard past the busy intersection of Packard and onto the new foundation at 2345 S. Huron Parkway.
While Linkner had never been inside the houses, they carried special meaning. He had lived nearby and found himself passing the houses in the wee hours of the night. "My first child was a crappy sleeper and I'd walk by those two houses and thought they were so beautiful," Linkner said.
In 1986, when a patient who worked in one of the houses told him they were scheduled for demolition, Linkner decided to save them. "I was naïve. I didn't know what I would do with them," he said. "I didn't have any land." Fellow physician Dennis Chernin joined the effort and the two decided to move the houses and create The Parkway Center, which today hosts about 30 medical practitioners.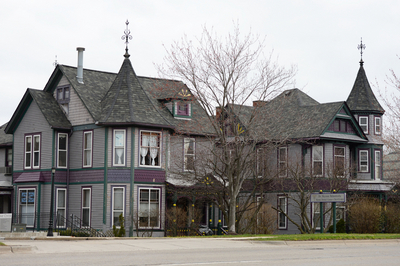 Melanie Maxwell | AnnArbor.com
Linkner had brought his home videos to Priceless Photo Preservation to have them digitized, Hoffman said Anything that used magnetic tape, such as camcorders, has a relatively short shelf-life, Hoffman said.
In addition to movies of his family, Linkner wanted to preserve the 30-minute movie of the house move. As a bonus, Hoffman edited a six-minute version of the move and posted it online. "It was a huge event in Ann Arbor, Hoffman said. "There was never anything like it. If you lived in Ann Arbor then, you probably remember it."
In addition to some good luck of a smooth move, there was some magic at work. Once the houses were set on their new foundations late in the day of June 21, 1987, a rainbow appeared, Linkner said. "On the 25th anniversary of the move, a double rainbow appeared," Linkner said. "I hadn't seen one in 25 years. It makes you wonder."
Janet Miller is a freelance reporter. Contact the AnnArbor.com news desk at news@annarbor.com.