Posted on
Fri, Mar 23, 2012 : 5:58 a.m.
This year's Hash Bash in Ann Arbor to feature one of biggest names in national cannabis movement
By Ryan J. Stanton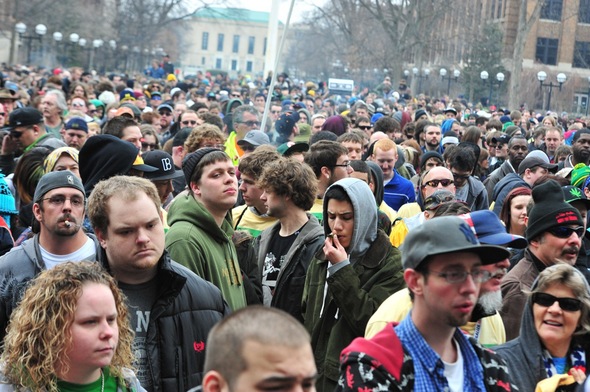 Ryan J. Stanton | AnnArbor.com
Steve DeAngelo
, director of the nation's largest medical marijuana dispensary and one of the biggest names in cannabis law reform, will speak at this year's
Hash Bash in Ann Arbor
.
"This is one of the biggest things to hit A2 since sliced bread or the flush toilet," local medical marijuana activist Chuck Ream wrote in an email, calling DeAngelo "the top speaker we could have possibly have gotten for Hash Bash this year."
The 41st annual Hash Bash takes place at noon April 7 on the University of Michigan Diag, and organizers say they're glad to welcome DeAngelo of California's Harborside Health Center.
As always, the rally on the Diag will be followed by the Monroe Street Fair, where festival-goers traditionally go to smoke copious amounts of marijuana afterward.
DeAngelo, who has been featured extensively in national media coverage of the emerging medical marijuana industry, has been active in the cannabis reform movement for nearly four decades, both in Washington, D.C., and in California.
Ream, president of the Arborside marijuana dispensary in Ann Arbor, is one of the organizers of this year's Hash Bash, an annual festival rich in local history.
"If you think about it, Hash Bash is one of the longest-running, most-enthusiastic, absolutely grassroots people's festivals that we have. It is both celebration and protest," said Ream, who taught kindergarten for 33 years before he retired to help finance and run a successful medical marijuana campaign in Ann Arbor in 2004.
Ream said the rally portion this year's Hash Bash will last 90 minutes instead of the usual 60 minutes. One of the highlights will be when Ann Arbor musician Laith Al-Saadi takes the stage to perform a guitar rendition of the Star-Spangled Banner.
Various speakers are expected to talk about marijuana initiatives under way in cities like Flint, Detroit and Kalamazoo.
Adam Brook, organizer of the Hash Bash for the past two decades, won't be in attendance this year because he's serving a two-year prison sentence for a weapons violation. A letter from Brook, modeled after Martin Luther King Jr.'s famous letter from the Birmingham Jail, is expected to be read by Richard Celement, a medical marijuana activist from Lansing.
Charmie Gholson, a drug policy advocate and editor of the Midwest Cultivator, will serve as co-emcee along with Ream this year. Gholson is the communications director for Committee for a Safer Michigan, a grass-roots group of cannabis activists trying to collect signatures to put the question of fully legalizing marijuana on the ballot in Michigan this November.
With good weather, a notable lead speaker and a statewide legalization campaign under way, Ream predicts this could be the biggest Hash Bash ever.
"We could easily have two to four times as many people as have ever attended any Hash Bash," he said, pointing out there now are almost 200,000 medical marijuana patients registered in Michigan. Even though they're following the state's medical marijuana law, Ream said they're still "absolutely terrified" by the continued attacks on the law.
Hash Bash comes this year as the Ann Arbor city attorney's office continues to heavily scrutinize and question the legality of medical marijuana dispensaries operating in the city.
Ream is hoping DeAngelo, whom he called a historically important leader in the decades-long struggle for cannabis and human rights, can inspire and instruct cannabis activists in Michigan.
He's also hoping DeAngelo will speak to the members of the Ann Arbor Medical Cannabis Guild about best practices for medical marijuana dispensaries.
A native of Philadelphia, DeAngelo was raised in Washington, D.C., where his father worked for the Kennedy administration. He was influenced by his parents' involvement in the Civil Rights movement and when his dad worked for the Peace Corps in the late 1960s.
In 1984, he graduated from the University of Maryland and went on to open the Nuthouse, which High Times called a version of the famous Family Dog in San Francisco.
After playing a key role in the passage of Washington D.C.'s medical cannabis initiative in the late 1990s, an effort later blocked by Congress, DeAngelo arrived in California in 2000.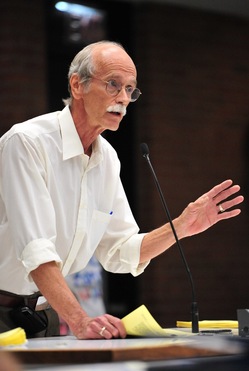 Ryan J. Stanton | AnnArbor.com
There he became one of the founding members of Americans for Safe Access, an advocacy group for medical cannabis patients. He also wrote and produced "For Medical Use Only," a short documentary film, and helped organize several legal cannabis gardens.
In October 2006, he won a competitive RFP process and was issued a medical marijuana dispensary license by the city of Oakland. He then launched Harborside Health Center in hopes of bringing a new model of professionalism and integrity to the industry.
As Harborside gained recognition for its free holistic care clinic, lab-tested medicine, low-income care package and wide array of other patient services, DeAngelo went on to help create the Steep Hill Labs, a medical marijuana safety screening and quality assurance facility.
The University of Michigan Department of Public Safety warns that Hash Bash is not an amnesty day where campus police look the other way on pot smoking on university property.
While Ann Arbor's lax penalties for possession of marijuana apply elsewhere in the city limits, campus police enforce state law on university property, and state law says marijuana possession is a misdemeanor crime punishable by one year in jail and up to $2,000 in fines.
The Ann Arbor City Council in the 1970s reduced the city penalty for possession of small amounts of marijuana to a $5 civil infraction, essentially decriminalizing weed in Ann Arbor. That remains the case today, except it's now a $25 ticket for first offenses.
Ryan J. Stanton covers government and politics for AnnArbor.com. Reach him at ryanstanton@annarbor.com or 734-623-2529. You also can follow him on Twitter or subscribe to AnnArbor.com's email newsletters.