Posted on
Sat, Apr 2, 2011 : 3:16 p.m.
Thousands pour into Ann Arbor for 40th annual Hash Bash
By Lisa Carolin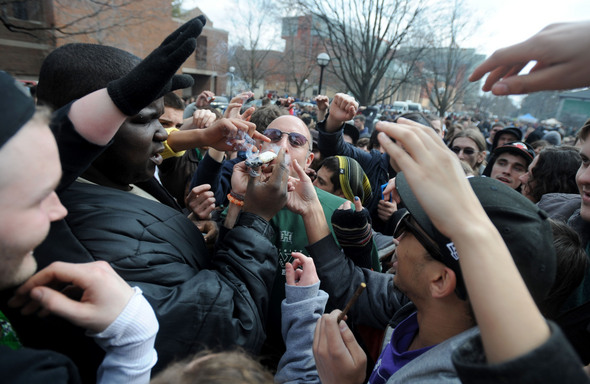 Angela J. Cesere | AnnArbor.com
Thousands of people filled the University of Michigan Diag in Ann Arbor today, many of them echoing the same message sent at the
first Hash Bash 40 years ago
: Legalize marijuana.
However, the details of the message have evolved since the 2008 passage of Michigan's Medical Marihuana Act , which prompted dispensaries for the still-controlled substance in and around Ann Arbor and the state.
Jon Payne of Ann Arbor observed that the mood at today's Hash Bash was more of a celebration of progress than the protests that he recalled from years past - although concern about marijuana laws remains.
"What's criminal is denying people their medicine," said Payne, who has been attending the Hash Bash for many years. "I'm afraid that Michigan's Republican governor and attorney general will be aggressive in their enforcement of marijuana."
Traffic in downtown Ann Arbor was busier than usual around the time of the Hash Bash, and there was also a lot of foot traffic both downtown and on campus as the speeches started near noon, followed by the Monroe Street Fair immediately afterwards.
The Diag was a sea of people, with crowds estimated at about 6,500. The smell of marijuana was pervasive, despite a warning form from Hash Bash organizer Adam Brook that Campus police enforce the state law on U-M property, and that can mean marijuana possession is punishable by one year in jail and up to $2,000 in fines.
That didn't stop Brandon Carle and his friends from Lapeer from sharing a joint.
"It's much more liberal in Ann Arbor," he said.
"We like being around like minded people," said Tere Kloth from Oakland County, who also was partaking.
Volunteer Michael Labadie from Ypsilanti carried a bucket through the crowd collecting donations for what he called, "A good cause-the legalization of marijuana."
Gary Johnson, former Republican Governor of New Mexico, was a featured speaker at today's event. Brook referred to Johnson as, "the highest ranking official to call for the legalization of marijuana."
"We need to legalize marijuana," Johnson told the enthusiastic crowd. "46 percent of Americans support the legalization of marijuana, and 30 million Americans are touched by the marijuana drug laws. Most of the people in jail connected to marijuana participated in non-violent, victimless crimes."
One of the final speakers today was activist John Sinclair, who has become known as the martyr of the movement to legalize marijuana. Sinclair was sentenced to a 10-year prison term for possession of two joints in 1971, spurring John Lennon to come to Crisler Arena in December of that year to headline the "Free John Now" benefit concert.
The Michigan Supreme Court then ruled the state's marijuana statutes were unconstitutional and Sinclair was released from prison after serving two-and-a-half years of his sentence. On April 1, 1972, the first Hash Bash took place on the Diag.
In a sign that times have changed, Sinclair held up his medical marijuana card at today's Hash Bash and told the crowd, "I'm a patient, and that's a first step toward dismantling the machinery on the war on drugs."
Ann Arbor Police reported no arrests stemming from the Hash Bash as of about 3 p.m. Saturday, when traffic downtown remained heavy.
U-M officials said their public safety officers, which have jurisdiction of campus, made 12 arrests: 10 for marijuana possession and 2 for marijuana use. Another person was cited for having an open intoxicant, while numerous warnings were issued for soliciting without a permit and skateboarding, said spokesperson Diane Brown.