Posted on
Thu, Oct 25, 2012 : 5:57 a.m.
Pittsfield Township: Too many unknowns in new transit authority; 7-0 vote to opt out
By Amy Biolchini
Citing unanswered questions and too many unknowns in the new Washtenaw Ride transportation authority, Pittsfield Township trustees voted 7-0 Wednesday night to opt out of the program.
"This has been a difficult decision to make," Supervisor Mandy Grewal said, speaking to the three Ann Arbor Transportation Authority officials at the meeting.
AATA CEO Michael Ford, strategic planner Michael Benham and spokeswoman Mary Stasiak were all present Thursday night to watch the vote.
The township has become the 20th municipality in Washtenaw County to withdraw from the new authority, which was formally incorporated by the AATA Oct. 2. Pittsfield Township has the highest taxable value in the county after the city of Ann Arbor.
Township officials contended that they are still supporters of public transit and want to maintain the service contract they have with AATA, but could not commit to being a part of the new authority and subjecting residents to a millage amount that has yet to be determined.
"This in no way signifies the township does not support public transit," said trustee Alan Israel.
However, Israel stated that he did not believe Pittsfield Township's participation in the new transportation authority guaranteed the expansion of transit options in the township.
"We could better provide service on a contractual basis," Israel stated.
Additionally, Israel noted AATA's proposed express route to Canton Township in its five-year service plan - and said he didn't think Pittsfield Township voters should be paying out for that kind of service.
Township officials were especially concerned with the time frame in which they were presented with the new five-year service plan from AATA that detailed what would happen with bus service in Pittsfield Township with participation in the new authority.
Grewal said the board was presented with the plan Oct. 10, giving the township 10 business days to get public comment from its residents before the Nov. 2 deadline for the township to opt out - a time frame Grewal said was too short.
"We should not put this on our residents without any meaningful feedback," she said.
Shortly before the meeting Thursday night, Grewal said she received an official letter from AATA CEO Ford stating that AATA had extended the deadline for municipalities to opt out of the new authority to 5 p.m. Dec. 10.
However, the notice didn't chance Grewal's position on being involved in the new authority because of the manner by which AATA officials have proposed funding its activities in a new millage.
AATA has used a 0.584-mill transit tax as an example of how it would fund countywide transportation efforts - an amount that would be a significant burden for Pittsfield Township residents, Grewal said. The township currently levies a 0.5 mill tax on residents for parks and recreation activities, Grewal said, and prides itself on its low taxes.
The possible millage would have raised $7.7 million in the first year for the Washtenaw Ride - of which Pittsfield Township would have paid $900,000.
The Act 196 board will oversee the operations of the new Washtenaw Ride transportation authority and will determine the funding mechanism for the expansion of services. A public vote would be required on any transit taxes the new board proposes to levy.
Representation on the new board may also have to be adjusted, Stasiak said. Originally, the Act. 196 board was to include seven Ann Arbor members and eight non-Ann Arbor members, Stasiak said.
"We're glad they're still supportive of transportation. We recognize there will be different levels of participation," Stasiak said. "It's a matter of finding the right way - the way that is most comfortable - is important."
The smaller footprint of the countywide transportation authority may require the new Act 196 board to reconsider the outside services included in the service plan, Benham said.
With less participation, millage rates would drop in proportion to the cost of service, Benham said.
However, the actual costs are up to the Act 196 board to decide, Benham said.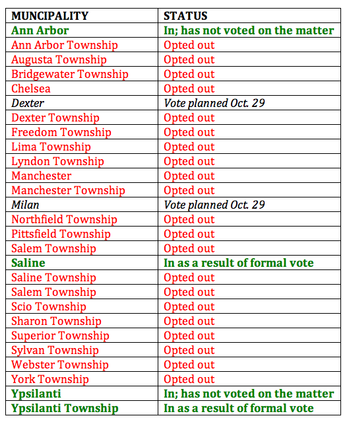 Amy Biolchini covers Washtenaw County, health and environmental issues for AnnArbor.com. Reach her at (734) 623-2552, amybiolchini@annarbor.com or on Twitter.