Posted on
Mon, Jul 19, 2010 : 12:14 p.m.
Top 5 things you didn't know about getting bed bugs
By Tina Reed
It's a subject that seems to elicit collective "ewws" whenever it comes up: Bed bugs.
And while it seems like those pesky little buggers are a nuisance of years past, they're cropping up more and more in cities around the U.S.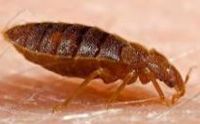 Photo courtesy of the Michigan Department of Community Health
And with no sign these small, wingless, blood-sucking insects are going away any time soon, the state of Michigan released a comprehensive online guide last week for recognizing the signs of them and getting rid of them.
Here are a few tips we gleaned from the guide, as well as from Washtenaw County heath officials:
1. They're "stealthy" little critters: According to the new state materials, bed bugs are able to go undetected so long because their saliva has desensitizing agents that prevent the host (that's you, humans) from feeling it when they bite. They leave lesions the size of a pin prick that may not become inflamed.
2. They're messy little house guests: They like to set up shop directly on the mattress along the seam and folds, as well as in the box spring or bed frame. When they come out to feed, they defecate, leaving reddish brown spots called "blood spots," and they cast skins. You may know you've got them if you find these fecal spots on the bed linens. You may also find small bloodstains on your sheets and mattresses, and highly infected homes may take on a coriander-like odor.
3. There are some things you can do yourself to control them: Vacuuming around the bed throughly - including the mattress and box-spring - and reducing excess clutter can help. Just make sure to dump the vacuum's contents into a sealed container outside and get rid of it pronto. It's also suggested scrubbing the seam of the mattress, or steam cleaning it can help as well. Other suggestions include washing bedding and night clothes in hot water and drying in high heat or freezing them for at least 24 hours. Watch out for applying flammable or toxic liquids like pesticides on the mattress. You do intend to sleep there again, right?
4. But sometimes, there's nothing you can do about bed bugs yourself: If bed bugs are found in bedding (mattresses or box-springs) or upholstered furniture, it is difficult to ensure cleaning alone will rid the item of bed bugs. Bed bugs may be inside the items and heat or steam may not be able to reach them. Unless the item is completely reconditioned - the cover taken from frame and treated - it is unlikely the product can be determined "bed bug free."
5. You can prevent getting bed bugs, sort of: Sometimes, even the most careful can run into issues with bed bugs. Among suggestions for preventing them from getting into the home in the first place is to inspect and clean all used or antique furniture. Taking apart bed frames will expose additional bug hiding places. When you travel, inspect any room where you're staying and examine your luggage for insects before you bring your belongings back home. Caulk any holes in the floors or wall. Place your bed frame legs into dishes or cups with mineral oil to coat the bottom three or four inches of the legs with petroleum jelly to prevent bugs that do get in your home from crawling into bed with you.
Here's a question readers: Have you gotten bed bugs in your home before? How did you discover them and how did you ultimately get rid of them?
Tina Reed covers health and the environment for AnnArbor.com. You can reach her at tinareed@annarbor.com, call her at 734-623-2535 or find her on Twitter @TreedinAA.