Posted on
Fri, Feb 24, 2012 : 5:57 a.m.
Top 10 Eastern Michigan University officials collect combined $2.4 million in 2011
By Kellie Woodhouse
Three coaches, six administrators and one administrator-turned-professor — that's the composition of the top-10 earners at Eastern Michigan University in 2011.
Together they made nearly $2.39 million, up slightly from $2.37 million in 2010.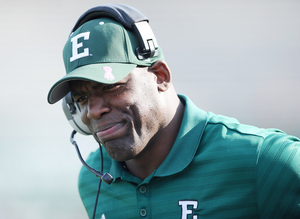 Melanie Maxwell I AnnArbor.com
All but one person on the list —head football coach
Ron English
— make under $300,000.
English coached the Eagles through their winningest season in more than a decade last fall. He also took home $367,920 in 2011, a 24.2 percent increase from his 2009 earnings.
EMU President Susan Martin is the school's second-highest earner, collecting $295,000 in 2011, a 3.7 percent raise from her 2009 earnings.
Former provost and interim president Donald Loppnow, currently a social work professor, rounds out the top-10 earners at $195,000.
Coaches top earners at EMU
English might be the top earner at EMU, but Martin said his current rate is "slightly under market in the MAC right now."
"We don't feel the need to pay at the top of the MAC, (but) our coaches get stolen if they're under (compensated)," she said,
Head women's basketball coach Suzy Merchant left EMU to lead Michigan State University's team in 2007. Merchant now makes more than $340,000 as a Spartans coach.
English's salary is paid primarily from the school's general fund. Earnings-wise, his salary puts him in the mid-range of MAC football coaches, according to a USA Today salary database. English makes more than coaches at Central Michigan University, Kent State and the University of Buffalo.
Assistant football coach Phil Snow, who made $214,000 in 2011, also is among the highest paid EMU employees, ranking sixth.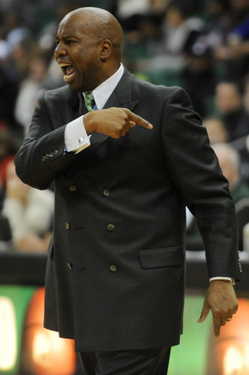 Melanie Maxwell | AnnArbor.com
Former men's basketball coach
Charles E. Ramsey
was 2011's seventh-highest earner, pulling in $203,000, despite the fact he was
ousted in April
during the last year of his contract with EMU.
Ramsey was replaced by Rob Murphy, who makes $210,000 per year plus incentives.
Like English, Snow, Ramsey and Murphy are funded primarily through the school's general fund, which includes income from student tuition and fees and state appropriations.
The football program funds $247,000 of the salaries of its 10 full-time coaches, who combined make just under $1.5 million, said EMU Associate Athletic Director Mike Malach. That money comes from guaranteed football games, such as the away matches against University of Michigan and MSU. EMU is paid between $400,000 and $450,000 to play those schools, Malach said.
Athletic Director Derrick Gragg's earnings are also funded by the general fund. Gragg is EMU's eighth highest-paid official and earned $196,000 in 2011.
During her tenure, Martin has been an avid supporter of the school's athletic department, insisting that a diverse athletic program is part of the student experience EMU is expected to provide.
"It's not unusual," Martin said of the funding model.
"Will athletics be self sustaining? No. Only a few schools in the country can do that," Martin said. "Our hope is to generate more interest."
Administrators forgo pay raises
How does Martin's $295,000 salary compare with other MAC-level Michigan schools? Western Michigan University's president brings home upward of $366,000 each year, and in 2010 Central Michigan University's president earned a base salary of $350,000.
Chris Asadian | AnnArbor.com
"If you benchmark it, you'll find that our positions are low," Martin said. "We've held the line on salaries the past few years."
Over the past few years, EMU has been "cautious about pay raises," Martin said. Last year, the 100 highest paid administrators didn't receive raises. The school also eliminated cellphone bill reimbursements, saving roughly $200,000 a year.
"We think that shows leadership," Martin said. "As leaders we're not going to ask our employees to do anything we wouldn't do ourselves."
Martin said EMU considers salaries offered at other MAC schools and comparable public institutions when setting rates for new hires. That process was followed when hiring Kim Schatzel as provost in November. Schatzel was hired at a $275,000 rate, slightly above the $274,000 her predecessor Jack Kay made in 2011. Kay was the third-highest earner at EMU in 2011.
EMU General Counsel Gloria Hage collected $227,000 in 2011. Hage joined EMU in 2010 after leaving her post as deputy general counsel of U-M, a position she had occupied since 2003.
Thomas Stevick, EMU's vice president of development and director of the EMU foundation, earned $221,000. Stevick spearheads the school's fundraising efforts. During the 2010-2011 academic year, EMU raised $5.1 million. Thus far in 2011-2012, the school has nearly doubled that amount and raised $9 million.
Chief Financial Officer John Lumm earns $197,000. Lumm this year is tasked with controlling EMU's $3 million shortfall, which he expects to eliminate by June.
Top 20 EMU earners in 2011
Football coach Ronald English: $367,920
President Susan Martin: $295,120
Former Provost Jack Kay: $274,083
General Counsel Gloria Hage: $227,293
Vice President of Development Thomas Russell Stevick: $220,645
Assistant football coach Phil Snow: $214,481
Former basketball coach Edward Ramsey: $202,828
Chief Financial Officer John Lumm: $197,277
Athletic Director Derrick Gragg: $196,466
Social work faculty Donald Loppnow:$194,738
Accounting and finance professor (business school) Jens Stephan: $191,044
Computer and information systems professor (business school) David Chou: $186,962
Marketing professor (business school) Harash Sachdev: $186,068
Management professor (business school) Stewart Tubbs: $185,676
Management professor (business school) Jean McEnery: $185,213
Marketing professor (business school) Matthew Sauber: $184,618
Accounting and finance professor (business school) Lois Mahoney: $183,256
Management professor (business school) Mary Vielhaber: $181,595
Geography and geology professor Yichun Xie: $181,234
Management professor (business school) Sanjib Chowdhury: $180,401
Kellie Woodhouse covers higher education for AnnArbor.com. Reach her at kelliewoodhouse@annarbor.com or 734-623-4602 and follow her on twitter.