Posted on
Thu, Mar 15, 2012 : 6:30 p.m.
Live updates: Tornadoes strike Washtenaw County
By AnnArbor.com Staff
UPDATES
7:54 p.m.: Flooding was reported in Ann Arbor. South Maple Road near Scio Church Road was reported flooded with cars unable to get through. Cars were also reported stranded on Hill Street in Ann Arbor between Division Street and Fifth Avenue.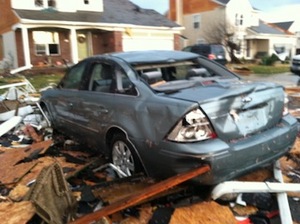 Paula Gardner | AnnArbor.com
7:45 p.m.: Most of the downtown Dexter area has been cordoned off. People are having a difficult time getting to where they want to go in order to find out if they have damaged property.
"I just want to know if I've got a facility to go to in the morning,'' Chelsea resident Kirk Aldrich said. He was driving around looking for a way to find a thompson-Shore building. He works there.
7:40 p.m.: The DTE Energy power outage map showed widespread power outages in the Dexter area. Another power outage was shown on the south side of Ann Arbor.
7:30 p.m.: There appeared to be no significant damage in downtown Dexter. The streets had been blocked however and several emergency vehicles were passing through town without sirens on.
6:50 p.m.: At least six homes in the Huron Farms subdivision east of Dexter had been torn apart by the storm. They were still standing, but their interior stairwells were visible from the street. Emergency vehicles had flooded the area.
6:40 p.m.: A resident of Meadowview Street off Dexter-Ann Arbor Road reported his neighbor's house was severely damaged.
6:35 p.m.: Damage was apparent at a two-story house outside of Dexter. Rescue personnel were along the road.
6:30 p.m.: The National Weather Service has issued a tornado warning for.southeastern Washtenaw County in Southeast Michigan until 7:15 p.m. At 6:26 p.m., trained weather spotters reported a funnel cloud near Saline.
A tornado may develop at any time, the Weather Service said.
The video below shows hail falling during the storm: