Posted on
Thu, Nov 5, 2009 : 9:11 p.m.
University of Michigan agrees to pay 78% of cost of Fuller Road transit station
By Ryan J. Stanton
The University of Michigan will pay 78 percent of the costs of a new transit station on Fuller Road under an agreement approved by the Ann Arbor City Council Thursday.
The first phase of the project is estimated to cost between $40 million and $45 million, which includes construction of a 1,020-space parking deck across from the U-M Hospital. The city has agreed to assume responsibility for 22 percent of that cost.
Council Member Stephen Rapundalo, D-2nd Ward, called it a "progressive" move forward with the potential for various types of transportation - automobiles, buses, trains and bicycles - meeting in one location, potentially the future "gateway to Ann Arbor."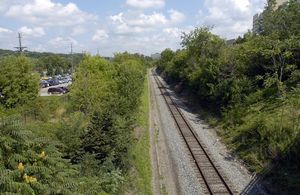 Fuller Road transit center
The transit station will address transportation issues in the long run, but also will help mitigate the need for having one or more parking decks in the Wall Street area, Rapundalo noted.
Council Member Sabra Briere, D-1st Ward, said the transit station will be a 21st century solution to traffic and congestion. She called the conceptual plans both innovative and exciting.
The council voted 11-0 on the agreement with the university and also unanimously approved a master concept plan. It amended an agreement with JJR LLC and amended the existing project budget.
With about 2 million visitors a year to the U-M Hospital, the site proposed for the transit station already is the most heavily trafficked area of Ann Arbor, city officials said. Nearly 20,000 people each day work within walking distance of the Fuller Road site.
"We are presenting Ann Arbor to many people through this," said Council Member Sandi Smith, D-1st Ward. "This needs to have a significant presence. It needs to present itself as the gateway to Ann Arbor."
Eli Cooper, the city's transportation program manager, said the Phase I concept will include a bus transfer area with an indoor waiting area for bus patrons and an area that, in the short-term, will be used for bicycle storage with lockers and bike hoops. In addition to the parking deck, there will be a 50-space surface parking lot, he said.
Cooper said the long-term goal is to expand the transit station in a future phase to accommodate commuter rail service.
Cooper said utilities also will be installed for the future addition of a full-service bicycle station with indoor storage spaces and ready access to lockers and showers. He said that would make it possible for "eco-tourism," in which people could take a train into Ann Arbor, rent a bicycle, and hop on the nearby trails to cycle around town.
Council Member Leigh Greden, D-3rd Ward, said government is notorious for moving slowly, but not in this case.
"This is great work and very exciting, and I'm amazed at how quickly it's moving forward," he said of the project.
Cooper said he'll be appearing before the council several more times to ask for approval as the project progresses. He said the contract will be overseen by U-M and managed by both the university and city.
Ryan J. Stanton covers government for AnnArbor.com. Reach him at ryanstanton@annarbor.com or 734-623-2529.