Posted on
Mon, Nov 21, 2011 : 7:32 p.m.
Will Michigan Stadium power outage affect Michigan-Ohio State game this weekend?
By Kyle Feldscher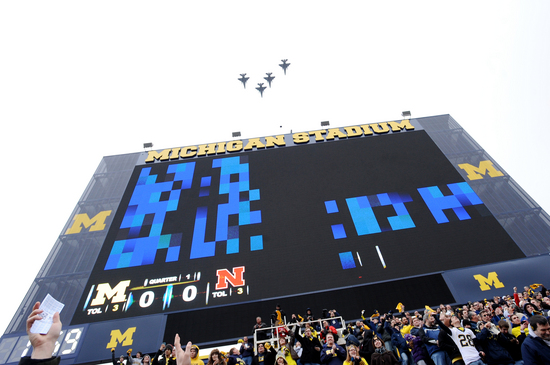 Melanie Maxwell | AnnArbor.com
The power outage that affected scoreboards and vendors alike at
Michigan Stadium
on Saturday isn't expected to happen for the
Ohio State
game, university officials say, although crews still are working on sub-station repairs.
Diane Brown, spokeswoman for the University of Michigan Department of Public Safety, said the electrical equipment in the Big House's sub-station failed just after 10 a.m. Saturday, leaving crews scrambling to fix it before kickoff at 12:01 p.m.
Plant Operations staff from the university worked during the first half of the game between Michigan and the University of Nebraska to restore power to the stadium's scoreboards, but electricity wasn't fully restored to the West tower, she said.
Brown said crews have been working since Sunday to make repairs to the sub-station and are also considering finding a temporary solution to make sure power is available for the game Saturday against Ohio State University.
The power outage affected both the game and fans.
The Wolverines lost five yards on a delay of game penalty when they were facing the scoreboard where the play clock couldn't be shown. In response, fans counted down the time remaining on the play clock to help the Wolverines get the snap off in time.
Fundraising groups staffing the concession stands in the areas affected by the power outage also lost money when they weren't able to accept credit and debit cards and couldn't make hot chocolate, coffee or dispense pop. Volunteers staffing the stations estimated they lost thousands of dollars because customers would ignore their stations if they saw the lights weren't on or would leave when they realized they couldn't pay electronically.
Nine of the stadium's 12 M-Den locations were unable to take electronic payments as well. Customers who came in looking to pay for things with credit or debit cards were directed to stores that could accept them.
Kyle Feldscher covers cops and courts for AnnArbor.com. He can be reached at kylefeldscher@annarbor.com or you can follow him on Twitter.