Posted on
Mon, Jul 16, 2012 : 1:05 p.m.
U-M football 2013: Expect a $2.8 million marquee outside Michigan Stadium
By Kellie Woodhouse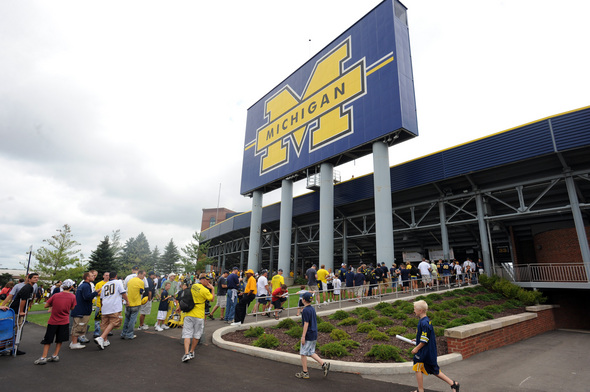 File photo
Those driving by the
Big House
next year can expect a landscape change:
University of Michigan
Athletic Director
David Brandon
is seeking approval to install a $2.8 million electronic marquee that can be viewed from Stadium Boulevard.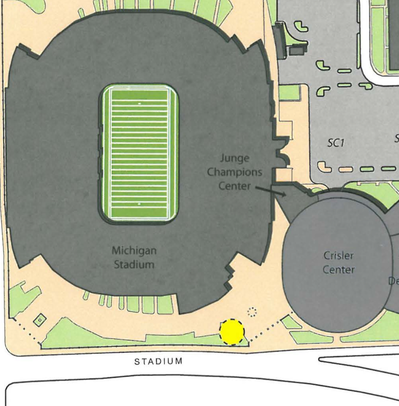 The marquee would be located in the space between Michigan Stadium, Crisler Center and Stadium Boulevard and would have both video and audio capabilities.
"This marquee will be used to welcome guests to Michigan Stadium and Crisler Center and announce upcoming events and programs for the Athletic Department," Brandon wrote in an memo to the Board of Regents, which must approve the expenditure before an architecture firm can begin designing it.
"The Athletic Department will highlight student-athlete and team accomplishments and it will be used to promote other departmental initiatives," he continued.
The eight-member Board of Regents will chose whether to approve the marquee during their Thursday meeting.
The marquee is part of a strategy to increase interest in attendance in U-M athletics, especially those that don't generate revenue.
Earlier this year AnnArbor.com reported that the school was planning a student loyalty program for athletic events in an effort to encourage students to attend non-revenue sporting events.
The marquee's $2.8 million price tag will be funded in full by the athletic department, which reported a $5.8 million surplus this year.
The department recently spent $20 million to upgrade its football, hockey and basketball scoreboard and plans to spend $6 million in the coming year to repaint Michigan Stadium.
Brandon has tapped TMP Architecture to design the project, which is projected to be completed in 2013.
Associate Athletic Director Dave Ablauf declined to comment or offer additional information on the marquee, saying he couldn't discuss the project unless it was approved by regents.
Kellie Woodhouse covers higher education for AnnArbor.com. Reach her at kelliewoodhouse@annarbor.com or 734-623-4602 and follow her on twitter.