Posted on
Sun, Mar 18, 2012 : 3:04 p.m.
U-M fraternity teams with Blue Tractor to shave heads, support cancer research
By Lisa Carolin
It was more than just a spirited day of eating, drinking and enjoying March Madness on television at the Blue Tractor BBQ and Brewery in Ann Arbor Sunday. Owners Greg Lobdell, Jon Carlson and Dan Glazer were on hand to get their heads shaved and encourage others to do so as part of a fundraiser for cancer research.
This was the second year in a row that the Blue Tractor hosted the fundraising event for the St. Baldrick's Foundation, a charity that raises money to fight childhood cancer. They raised more than $25,000 last year, and have raised $41,000 so far this year.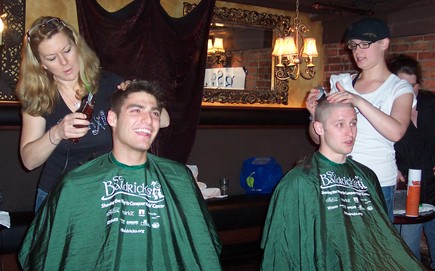 Photo by Lisa Carolin | For AnnArbor.com
"Hair is just hair," said Lobdell. "It's not important. Shaving our heads is a way to stand together for those kids who end up losing their hair due to treatments."
This year's event is bigger than last year's, thanks to the Blue Tractor partnering with U-M's Sigma Phi Epsilon fraternity, which has been involved with the foundation for the last three years. More than 70 fraternity members signed up to get their heads shaved today.
"It's an important cause," said Cam Brownley, a Sigma Phi Epsilon member and sophomore. "It's an easy thing to give to help kids who have cancer."
Sophomore and fraternity member Aaron Handley helped coordinate today's event.
"As a brotherhood, we have a huge passion for this kind of event," he said. "St. Baldrick's is a great foundation and knowing the money goes to an important cause makes it worthwhile."
Employees from Salon XL, located across the street from the Blue Tractor on East Washington, volunteered today to shave all those heads. Lisa Rinesmith from Campus Barber & Beauty Salon also helped shave heads.
"We're happy to help out, and since we're closed on Sunday, we can donate our time," said Julie Minerd, manager of Salon XL.
Salon employee Soozi Tesznar, tightly gripping a razor, said that the longer the hair, the tougher it is to shave it all off.
Blue Tractor Co-owner Glazer was thrilled with the huge turnout.
"There isn't a person on this planet not touched by cancer," said Glazer. "We hope to keep doing this fundraiser for years to come."
Cancer is the No. 1 disease killer of children in the U.S. and Canada. The St. Baldrick's Foundation is a volunteer-driven charity committed to funding promising research including national pediatric cancer clinical trials. The foundation has funded more than $78 million in childhood cancer research.
For more information go to StBaldricks.org.