Posted on
Thu, Sep 15, 2011 : 7:15 p.m.
University of Michigan nurses speak out against cuts at regents meeting
By Kellie Woodhouse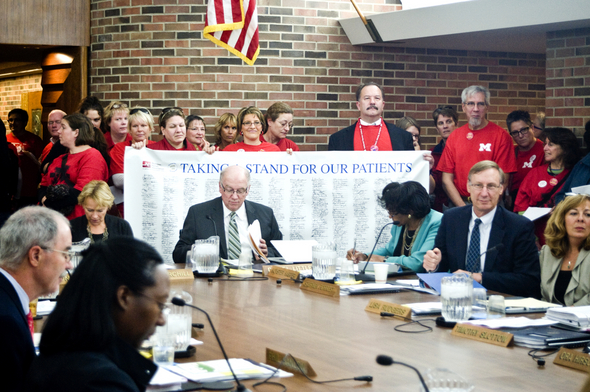 Joseph Tobianski | AnnArbor.com
The first University of Michigan Board of Regents meeting of the school year had an unusually high turnout when dozens of U-M nurses showed up to protest cuts that U-M negotiators are trying to work into their contract.
The rally comes in the midst of a six-month contract dispute between the nurses and the U-M Hospital System. The 4,000-member nurses union has been working without a contract since July.
"If you undercut the respect for our profession, we will leave. We will go elsewhere because we have no choice," U-M nurse Julie Morrissey told the regents during their meeting. "There is a time for harsh budget discussions, and this is not it. UMHS does not need money form its nurses."
The two parties disagree on allowances for overtime, paid time off and heath benefits. U-M, citing a tough budget year, is seeking to limit overtime for nurses and increase their health insurance premium.
"There have been some significant (issues) remaining," U-M's Executive Vice President for Medical Affairs Ora Hirsch Pescovitz told the regents. "We have an overall interest in reaching an agreement that is market and cost competitive."
"We do welcome this process and look forward to a successful conclusion to the negotiations," Pescovitz continued.
In an effort to reach a resolution, a state mediator has been working with the two groups since August. The next meeting for negotiations is set for Sept. 21.
During a tearful address to the regents. U-M nurse Keri Baker said the cuts seem unfair when hospital executives "themselves have taken large raises this year."
"How can our administrators expect us to respect and admire their leadership when they fail to set and example for us?" Baker asked.
Pescovitz received a $21,000 raise last year, according to U-M's online salary guide. Numbers for this year were not available.
"On behalf of the nurses, I am asking that you resolve this situation," Baker said to the regents. "You have the opportunity to avoid this blowing up."
Kellie Woodhouse covers higher education for AnnArbor.com. Reach her at kelliewoodhouse@annarbor.com or 734-623-4602 and follow her on twitter."