Posted on
Fri, Jan 27, 2012 : 2:05 p.m.
U-M president after Obama's speech: Higher ed cuts 'not good for the state'
By Kellie Woodhouse
Melanie Maxwell I AnnArbor.com
When President Barack Obama spoke Friday about state governments reinvesting in public universities and skyrocketing college tuition, University of Michigan President Mary Sue Coleman nodded in agreement.
She knows what it's like to face record-low state funding and then raise tuition, increasing the financial burden on students and causing higher education advocates to rally in criticism.
The state cut U-M's budget $47.5 million, or about 15 percent, this year, bringing the state contribution to the university to $269 million, or a record low 17 percent of the general fund. Gov. Rick Snyder blamed the funding cuts on a tough economy and a tight budget year in Lansing.
The cuts, while severe, follow a national trend of states disinvesting in public universities amid a sordid economic climate.
Also this year, U-M increased tuition 6.7 percent, above the state average of 6.5 percent and raising $46.4 million in new revenue.
The increase follows a national trend of tuition rates well outpacing inflation.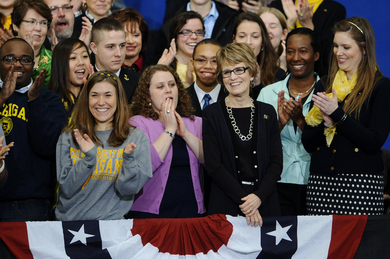 Melanie Maxwell I AnnArbor.com
During a Friday morning speech before a crowd of roughly 4,000 at the Al Glick Fieldhouse in Ann Arbor, Obama said such cuts and tuition increases are not sustainable.
Coleman, at a press conference after the speech, said the university is doing what it can to contain costs and shifted most of the blame to repeated state appropriation cuts.
"Every year: Cut, cut, cut, cut," she said.
"The state is coming back, it's coming back pretty dramatically and it's going to have to make choices," Coleman said. "We are in the rebound in this state."
That rebound, Coleman asserted, should come hand-in-hand with more money for the state's 15 public universities.
"For the last 10 years, higher education has been cut more dramatically than anything else. And that's not good for the state," she said. "When we got a more than 15 percent (cut), we really didn't complain very much because we knew that we had to take our fair share of pain for the state. But now the state is coming back."
Obama on Friday unveiled a number of new initiatives that, if enacted, essentially punish states that don't invest in higher education and public universities that don't keep tuition affordable by reducing the amount of federal money they receive.
One program Obama announced will shift the focus of a formula for nearly $10 billion in college aid from program longevity to affordability and low-income student outreach. Another $1 billion grant program will distribute more money to states that invest aggressively in higher education than states that don't.
"We've got to do something to help families and to help students be able to afford this higher education. We've all got a responsibility here," Obama said.
"We can't just keep subsidizing skyrocketing tuition," Obama continued. "Others have to do their part, colleges and universities need to do their part to keep costs down as well."
Coleman said that keeping tuition static is not viable without more state funding.
She said the university has cut costs aggressively and that her administrators are still looking for ways to save money.
"I think universities should be challenged," Coleman said.
The school has saved approximately $400 million in health benefit expenses since 2003 by shifting costs to employees. Coleman said that the school has also overhauled much of its space and energy usage to increase efficiency and save money. Faculty at a recent meeting, however, asked U-M Provost Philip Hanlon to defend pay for the school's top administrators and deans.
In his speech, Obama praised U-M for doing "a lot to find savings in your budget."
He did not mention the cost of attending the university, which is $26,810 for in-state upperclassmen and $53,006 for out-of-state upperclassmen. U-M is one of the costliest public universities for non-residents.
Coleman criticized the formula funding model Snyder plans to use this year to determine how much funding each university will receive. The formula essentially applies the same set of metrics to each of the state's 15 public institutions, despite size or focus. The governor has stated that he does not plan to decrease public university funding further next year, Coleman said at a recent faculty meeting. Snyder issues his fiscal 2013 budget in February.
"It can't be just a simple formula. It's more complicated than that," offered Coleman, who Obama's administration appointed as co-chair of the National Advisory Council on Innovation and Entrepreneurship last year.
Obama invited Coleman and other higher education leaders to a roundtable discussion on college affordability on Dec. 5, but Coleman declined, citing a busy schedule. During her interview today, Coleman said an open letter she sent to the president two weeks later asserting the need for a more affordable college education "came at just the right time" when talk about college costs has begun to rise from a simmer to a near-boil.
"He recognizes ... the dramatic disinvestment that the states have made, and one of the most harsh has been in Michigan," Coleman said, adding later that she's "optimistic" that the state can "get us slowly back to where we used to be" in regards to funding.
Kellie Woodhouse covers higher education for AnnArbor.com. Reach her at kelliewoodhouse@annarbor.com or 734-623-4602 and follow her on twitter.