Posted on
Thu, Jan 19, 2012 : 5:54 p.m.
University of Michigan provost: Student researcher dismissal not union busting
By Kellie Woodhouse
University of Michigan Provost Philip Hanlon told the Board of Regents Thursday that the recent dismissal of a graduate student research assistant was fueled by her poor academic performance and not discrimination because of her union activities, as she alleges.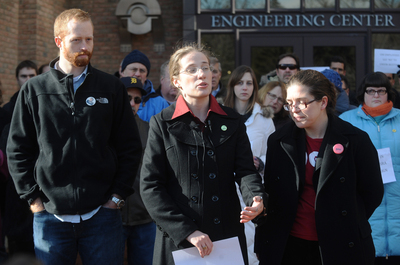 Melanie Maxwell I AnnArbor.com
Former engineering GSRA Jennifer Dibbern claims that shortly after informing her faculty adviser she was an advocate of forming a student researcher union she began receiving poor reviews and was ultimately dismissed. Dibbern said she was essentially told by her adviser to cease her involvement in unionization efforts.
Hanlon, however, says that's not the case and that Dibbern's account of her dismissal, which she shared during a news conference Wednesday, is incomplete.
"I have personally reviewed the academic record for this case and I'm convinced that the academic decisions made by our faculty were justified and appropriate," Hanlon said, adding that faculty "followed a thorough and fair process and I want to offer my strong support for them."
Hanlon also said that since the news conference, his academic affairs office received "quite a number of inquires about the situation."
Dibbern says that she received positive academic reviews prior to her adviser Rachel Goldman discovering her involvement in the Graduate Employees Organization, a group lobbying for GSRA unionization. Dibbern says when Goldman learned of her involvement, Goldman began treating her differently. She has repeatedly cited an email as proof.
"She threatened to fire me if I didn't stop all outside activities," Dibbern said Wednesday.
Kellie Woodhouse covers higher education for AnnArbor.com. Reach her at kelliewoodhouse@annarbor.com or 734-623-4602 and follow her on twitter.