Posted on
Wed, Apr 6, 2011 : 12:10 p.m.
Former U-M student body president files lawsuit against former state assistant attorney general
By Kyle Feldscher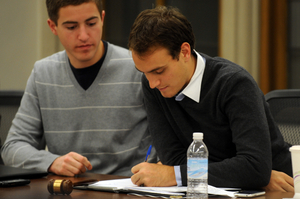 Note: This story has been updated to note Chris Armstrong is the former president of the University of Michigan student body. His term expired earlier this week.
Former University of Michigan student body president Chris Armstrong has filed a lawsuit seeking more than $25,000 in damages from former Assistant State Attorney General Andrew Shirvell.
Armstrong's attorney Deborah Gordon said in a complaint filed in Washtenaw County Circuit Court on Friday that Armstrong is alleging Shirvell stalked him and caused emotional distress in 2010 with posts on Shirvell's blog and on Facebook.
Armstrong was the first openly gay student body president at U-M and has been accused by Shirvell of pushing a "radical homosexual agenda."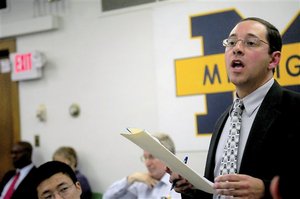 Marissa McClain | The Michigan Daily
In the complaint, Gordon writes Shirvell developed a "bizarre personal obsession" with Armstrong despite never meeting him and said Shirvell has a history of "employing intimidation, threats and abusive language against others on whom he has become focused."
The complaint includes allegations of defamation, intentional infliction of emotional distress, invasion of privacy, making statements that put Armstrong in a false light, abuse of process and stalking.
Among claims made in the lawsuit is that Shirvell falsely called Armstrong an "out-right Christian bigot," that he "cultivates and encourages violence against others," that he "ascribes to the teachings of the Ku Klux Klan," and that he held a "gay rush party" to "liquor up underage freshman" and recruit them "to the homosexual lifestyle."
Shirvell kept a blog accusing Armstrong of pushing a "radical homosexual agenda" and appeared at several Michigan Student Assembly meetings to protest Armstrong, holding signs — including ones with a rainbow with a swatiska drawn over it. Shirvell was banned by university officials from stepping foot on campus.
Armstrong sought a person protection order against Shirvell in September, which he later dropped before asking the state bar association to disbar Shirvell. Washtenaw County prosecutors also denied a request for stalking charges to be brought against Shirvell.
Philip Thomas, an attorney representing Shirvell in the grievance case with the bar association but not in the lawsuit filed on Friday, said a recent decision by the U.S. Supreme Court gives him reason to believe all lawsuits and grievances filed against Shirvell will be dropped.
Thomas said the court ruled in Snyder v. Phelps that the Westboro Baptist Church had the right to picket at the funerals of United States soldiers, despite the offensive signs and chants the group used. Thomas said that even though Shirvell's words toward Armstrong may have been offensive, they are protected by freedom of speech.
"I have every confidence in the world that when all of these allegations are dealt with and addressed … I'm confident he's going to be vindicated and the case will be dismissed," Thomas said.
Kyle Feldscher covers K-12 education for AnnArbor.com. He can be reached at kylefeldscher@annarbor.com or you can follow him on Twitter.